January 9, 2019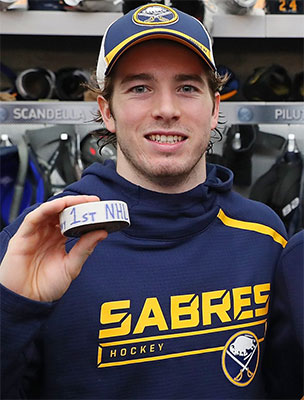 HCA Goalie of the Month/ECAC Goalie of the Month: Andrew Shortridge, Quinnipiac (Aberdeen Wings)
Quinnipiac University goaltender Andrew Shortridge has been named the Hockey Commissioners Association (HCA) and ECAC Goaltender of the Month honors after not surrendering a goal during the entire month of December. The junior went 2-0 during December, playing 114:55 minutes without allowing a puck to cross the goal line. He made 51 saves in the process, 32 of which came in a huge win for the Bobcats against then No. 1 ranked UMass on December 7. At the end of the month, his shutout streak was extended all the way to 180:03. Over the course of the season, Shortridge is one of just two goaltenders with a perfect record, sitting at 7-0-0 on the year. He also leads the nation in both GAA (0.72), and save percentage (..970). His efforts have elevated the Bobcats to as high as No. 3 in the national polls during the 2018-19 season.
Former NAHL Top Prospects and Austin Bruins forward CJ Smith (2011-13) scored his first NHL goal on Tuesday, January 8th for the Buffalo Sabres in a 5-1 win over the New Jersey Devils. Smith utilized his speed and cranked a shot off the post, a sign the speedy winger's first NHL goal could be imminent. Smith, 24, kept buzzing around the New Jersey Devils zone, creating more scoring chances. "Got a little more confident tonight," Smith said after scoring 4:14 into the second period in his sixth NHL game, a goal that put the Sabres ahead for good. Smith spent two full seasons in the NAHL with the Austin Bruins, recording 86 points in 113 career NAHL games, while also playing in the 2012 NAHL Top Prospects Tournament.
Atlantic Hockey Player of the Month: Austin Alger, Canisius (Odessa Jackalopes)
Alger led the Golden Griffs and Atlantic Hockey with five points in just three games played in the month of December. He scored four goals and added an assist for his five points as Canisius went 1-1-1 in three games. In the month's first game, against Army West Point, Alger had a third-period goal to make it 4-2 in what was a Canisius win. He also had an assist in that game. Then, in a series against No. 14 Union, Alger had three goals, including two in a 3-5 loss to the Dutchmen.
Atlantic Hockey Rookie of the Month: Steven Ipri, Mercyhurst (Lone Star Brahmas, Amarillo Bulls)
In five games, Ipri had four points for Mercyhurst as the Lakers went 2-3-0, including 2-1-0 in conference play. The rookie forward had two goals and two assists and became the eighth Laker to reach double-digit scoring. Ipri had two assists to help Mercyhurst open the month with a victory over Bentley. Then, after not finding the scoresheet during a weekend split with Air Force, Irpi scored in consecutive games at Ohio State.
Atlantic Hockey Goalie of the Week: Blake Weyrick, Canisius (Janesville Jets)
Weyrick stopped 32-of-33 shots faced to pace Canisius to a 3-1 victory over No. 13 North Dakota on Friday night. The only goal allowed by Weyrick was a shorthanded tally in the second period. He stood strong in the final period, however, stopping all 17 shots faced as Canisius was outshot 17-5 following Cameron Heath's early, third-period score putting Canisius up 2-1.
Atlantic Hockey Rookie of the Week: Matt Ladd, Canisius (New Jersey, Aberdeen, MN Magicians)
Canisius' other half of their new goaltending duo, Matt Ladd, was spectacular on Saturday night, saving 48-of-49 shots faced to earn his first collegiate victory as the Golden Griffins topped No. 13 North Dakota, 2-1, to sweep the Fighting Hawks. Ladd made 22 saves on 23 shots in the first period, the only goal coming on the power play. He settled in after that and stopped the next 32 shots faced to help preserve a victory.
B1G #3 Star: Tommy Nappier, Ohio State (Springfield Jr. Blues)
Nappier backstopped the Buckeyes to a 6-0 shutout at Michigan State last Saturday. He turned aside 29 shots on the evening, including 12 saves in the third period to preserve the shutout. Nappier ranks second in the nation in both goals-against average (1.54) and save percentage (.947). He earns his third career weekly award and his first since Nov. 13, 2018 (Third Star).
Hockey East Player of the Week: Scott Conway, Providence (Texas Tornado)
Conway tallied three goals and registered 10 shots this weekend as the Friars claimed the 2018 Ledyard Classic. He scored the game-winning goal against Brown on Saturday and two goals in the title game Sunday to win tournament MVP honors. He has a three-game goal scoring streak, totaling four goals over that span.
NCHC Defenseman of the Week: Luke Bafia, Western Michigan (Rio Grande Killer Bees)
Bafia had a breakout weekend in Las Vegas to help lead Western Michigan to the Ice Vegas Invitational title, earning All-Tournament Team honors. On offense, he scored his first goal of the season in Friday's 5-1 semifinal win over UConn, tallying WMU's fourth goal unassisted, while posting a +3 plus/minus. The next night, he scored the game's opening goal late in the first period of an eventual 4-1 victory over Air Force in the championship game. Defensively, Bafia helped limit WMU's opponents to only two goals all weekend (none even strength) and played on a penalty kill that finished 8-of-10 at the tournament. He ended the Ice Vegas Invitational with two goals, three shots on goal, +4 and four blocked shots, with two each game.
WCHA Forward of the Month: Lukas Craggs, Bowling Green (Janesville Jets)
Craggs enjoyed a sensational December for Bowling Green, leading the country with six goals (tied), three game-winning markers and a plus-9 rating as the eighth-ranked Falcons went undefeated at 5-0-1. He also added a pair of assists to tie for fourth in the WCHA with eight points (tied for sixth nationally). The junior from Elmhurst, Ill. opened the month with consecutive game-winners in the Falcons' road sweep at Alabama Huntsville (Dec. 1-2), part of a three-goal weekend. Craggs had a three-point effort (1g-2a) in a 4-3, overtime road victory at Ferris State on Dec. 8, before capping the month with a second two-goal contest. That multi-goal outburst included the game-winner as BGSU defeated Minnesota State, 4-1 on Dec. 15 to finish a two-game sweep of the then-No. 3 Mavericks.
WCHA Goaltender of the Month: Ryan Bednard, Bowling Green (Johnstown Tomahawks)
Bednard helped Bowling Green climb to eighth in the national polls and second in the WCHA standings with a 3-0-1 month, all in league play. The junior from Macomb, Mich. tied for second in the league in December wins, was second with a 1.72 goals-against average and fifth with a .931 save percentage. The Florida Panthers product opened the month with 26 stops in a 6-2 road win at Alabama Huntsville (Dec. 1) and 21 saves in a 3-3 draw at Ferris state (Dec. 8). Bednard was then brilliant in the Falcons' sweep of then-No. 3 Minnesota State on Dec. 14-15, holding what was then the nation's second-ranked offense to just two goals on the weekend. BGSU's goalie turned aside 46-of-48 shots against the Mavericks, vaulting the Falcons into second place in the WCHA heading into the season's second half.
WCHA Forward of the Week: Austin Beaulieu, Alabama Huntsville (Wichita Falls Wildcats)
Beaulieu led the Charger offense in two games against Ferris State with four points on a team-high three goals and one assist. The Coral Springs, Fla., native tied for first in the WCHA in point (4) and goals (3) and delivered two goals – including the game-winner in overtime – in Saturday's 4-3 win over the Bulldogs. Beaulieu also scored a go-ahead goal in the third period of Friday night's contest.
WCHA Goaltender of the Week: Atte Tolvanen, Northern Michigan (Minot, MN Magicians)
Tolvanen won his third and fourth-consecutive games between the pipes over the weekend for the Wildcats with a road sweep of Alaska. He was one of two league goaltenders to pick up a pair of wins last weekend and is now second in the WCHA with 11 victories this season. Friday's 4-0 shutout was the Vihti, Finland, native's 12th of his career, tying the Northern Michigan school record. The blanking was also his fourth of the season. Tolvanen's 52 saves and .963 save percentage were his second-best weekend performances of the season in those categories. The recognition is Tolvanen's third Player of the Week honor. He was previously selected on Nov. 5 and Dec. 10.
WCHA Rookie of the Month and Rookie of the Week: Cooper Zech, Ferris State (Odessa Jackalopes)
Ferris State University freshman defenseman Cooper Zech totaled three points on two goals and an assist in a weekend split at Alabama Huntsville as he continued his impressive play. Zech's three points tied for the team high and were the most by a WCHA defensive player or rookie on the weekend. He finished an impressive +4 on the ice and had seven shots with two blocks in a series that saw both games go to overtime. Zech had an assist on the Bulldogs' first goal in Friday's victory and then scored two of the Bulldogs' three markers in Saturday's game. This is Zech's third Rookie of the Week recognition. He was first honored on Dec. 10 and again on Jan. 3.