Bulls, Ice Dogs, Wild jump out to 2-0 series leads
April 4, 2011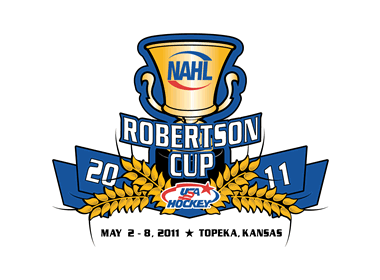 The Amarillo Bulls, Fairbanks Ice Dogs and Wenatchee Wild all jumped out to 2-0 leads in their respective best-of-five Robertson Cup Playoffs divisional semifinals series over the weekend.

The Bulls, the No. 2 seed in the South Division, bested the Texas Tornado in Game 1 on Thursday, 7-5, and Friday's Game 2, 5-3. Forwards Sean Keane (two goals, two assists) and Michael Erickson (four assists) have led Amarillo's offensive attack in the series, while goaltender Nikifor Szczerba has picked up both wins in goal.

The West Division regular-season champion Ice Dogs downed the Kenai River Brown Bears in Game 1 on Friday, 5-1, and Game 2 the next night, 6-1. Forwards Alec Hajdukovich (goals, three assists) and Jared Linnell (four assists), a University of Alaska-Fairbanks recruit, each have four points apiece to lead Fairbanks in scoring. Goaltender Joe Phillippi has earned both wins between the pipes.

In the other West Division semis, the No. 2-seeded Wenatchee Wild bested the Alaska Avalanche in Game 1 on Friday, 4-1, before winning Saturday's Game 2 in overtime, 4-3. Forwards Michael Di Puma (two goals, two assists) and Jacob Barber (goals, three assists) sit atop Wenatchee's scoring chart, and goaltender Brandon Jaeger backstopped the Wild to both of its victories.

After downing the Wichita Falls Wildcats in Game 1 of their South Division semifinals series on Saturday, 5-1, the NAHL regular-season champion Topeka RoadRunners fell to the Wildcats in overtime in Game 2 on Sunday, 1-0.

In the Central Division, the top-seeded Alexandria Blizzard split its first two games against the Bismarck Bobcats, winning Game 1 on Friday, 6-1, before falling the next night the defending Robertson Cup champions, 5-1.

The tightly-contested Coulee Region Chill-Owatonna Express Central semifinals series is also knotted at one-game-apiece, as Owatonna celebrated a Game 1 victory on Friday, 2-1, with the Chill rebounding on Saturday to take Game 2 in overtime, 4-3.

Both North semifinals series are also tied, 1-1. The division's regular-season champion St. Louis Bandits edged the Janesville Jets in Game 1 on Thursday, 3-2, before Janesville came through with a 4-3 victory in Game 2 on Friday.

The No. 3-seeded Michigan Warriors opened their series with a 3-1 triumph over the Traverse City North Stars on Friday. A night later in Game 2, the North Stars evened things up with a 5-4 overtime victory.

All eight playoff series resume on Friday, April 8.

View the Robertson Cup Playoffs Bracket here.

View the Robertson Cup Playoffs Format here.