January 4, 2019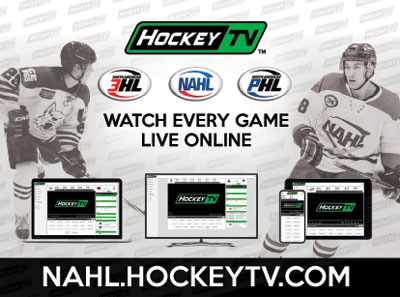 The North American Hockey League (NAHL) enters the second half of the season as 2019 begins with a slate of 17 games.
It has been a great start to 2019 and another good week for the NAHL in the commitment department as the season total of total players that are committed in 2018-19 now stands at 148.
The NAHL is less than a month away from the announcement and breakdown of the rosters and spots for the 2019 NAHL Top Prospects Tournament, which will be held from February 18-19, 2019 at the New England Sports Village in Attleboro, Massachusetts.
In the Central Division, it is no surprise the standings are once again tight and this weekend offers another opportunity for movement in the standings. Minot and the Minnesota Wilderness are separated by just two points in the standings and will meet twice in Minnesota for a series. The other big series has the Bismarck Bobcats and division-leading Aberdeen Wings battling in a home-and-home series. Aberdeen has won 10 straight games and has a five-point lead atop the division, while the Bobcats are tied for 3rd with Minot. The last series has 2nd place Austin squaring off in a home-and-home series against Brookings, with the Blizzard trying to snap a 14-game slide.
In the East Division, the 2nd place Jamestown Rebels have won four in a row and look to gain ground on 1st place and idle Johnstown as they travel to Wilkes-Barre/Scranton for two games. The other series features the Northeast Generals at the Maryland Black Bears, with the Generals just a point back of Maryland for the 4th and final playoff spot. New Jersey is also idle this weekend.
In the Midwest Division, all eyes will be in Janesville as new head coach Corey Leivermann goes behind the Jets bench for a series against the Fairbanks Ice Dogs. Janesville has a one point lead over Fairbanks for 2nd place in the division. The other series has the 1st place Minnesota Magicians on the road in Springfield facing the Jr. Blues for two games. Springfield is one point out of the 4th and final playoff spot held by Kenai River, who is idle this weekend along with the Chippewa Steel.
In the South Division, the schedule is light, but intriguing as the top two teams in the standings will battle in a three-game set as the Amarillo Bulls host the Corpus Christi IceRays. Both teams have nine wins in their last 10 games, so it should be a great series.
FRI, JANUARY 4
Jamestown at Wilkes-Barre/Scranton - 7:00 PM EST
Northeast at Maryland - 7:45 PM EST
Corpus Christi at Amarillo - 7:05 PM CST
Austin at Brookings - 7:05 PM CST
Fairbanks at Janesville - 7:05 PM CST
Minot at MN Wilderness - 7:05 PM CST
MN Magicians at Springfield - 7:05 PM CST
Bismarck at Aberdeen - 7:15 PM CST
SAT, JANUARY 5
Jamestown at Wilkes-Barre/Scranton - 3:30 PM EST
MN Magicians at Springfield - 6:05 PM CST
Northeast at Maryland - 7:45 PM EST
Corpus Christi at Amarillo - 7:05 PM CST
Brookings at Austin - 7:05 PM CST
Fairbanks at Janesville - 7:05 PM CST
Aberdeen at Bismarck - 7:15 PM CST
Minot at MN Wilderness - 7:30 PM CST
SUN, JANUARY 6
Corpus Christi at Amarillo - 4:05 PM CST