Generals defenseman Lovell makes NCAA DI commitment
January 1, 2019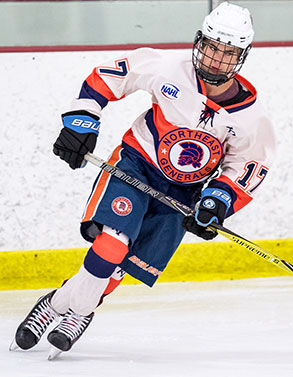 The Northeast Generals of the North American Hockey League (NAHL) are excited to announce that defenseman Timothy Lovell has committed to play NCAA Division I hockey for The Ohio State University in the B1G.
The smooth skating, puck-moving defenseman had many NCAA teams that were interested. After receiving his first offer over two years ago, Lovell took his time, and after visiting numerous schools Lovell felt that the school and hockey program at Ohio State gave him the best opportunity to excel both in the classroom and on the ice.
In 2018-19, Lovell, 16, has split his time between three teams, the Northeast Generals in the NAHL and the U16 and U18 Boston Advantage teams of the Tier 1 Elite Hockey League (T1EHL). The 5'4/125 lbs. native of Hingham, Massachusetts, has played his entire youth hockey career for the Advantage. Last season, Lovell was a member of the Boston Advantage U15 team squad that went all the way to the National Championship before falling just short.
In seven games with the Generals in the NAHL, Lovell has 3 assists, running the point on the power play and playing in all situations as the youngest player in the league. With the Advantage, he has three goals and six assists.
"Obviously I am very happy for Timothy. I wish people could see how hard he works on and off the ice. He's a rink rat that just loves to work on every aspect of his game. His skating, stick skills and Hockey IQ are off the charts. Ohio State is getting a great kid but also a tremendous hockey player that should make an impact as soon as he steps on campus," said Northeast Generals Head Coach Joe Lovell.
"Timothy's commitment is great and we are really excited for him. You can't find a nicer or more humble kid. I know that he has been pulled in numerous directions from many schools over the past two years, but he has just stayed the course and been very calculated with his decisions," said Bryan Erikson, General Manager of the Northeast Generals. "He has played with the same group of kids for many years and that has helped his and their development a lot. In today's hockey where everyone wants to jump around and in a rush it's great to see kids find success by staying the course, working on skills and developing. That is why we are so excited about our continued relationship with Lovell Hockey. This is one of many NCAA commitments between our two programs with many more to come."
Boston Advantage Head Coach Tim Lovell said, "I am very proud of Timothy. We left this decision up to him and he took his time making it. He didn't rush, he weighed the pros and cons of each school and made a decision that we are all excited about. His commitment is a real testament to the work he has put in both on and off the ice. I am looking forward to watching him continue to develop over the next two years before he goes to school."