NAHL announces Beauty Status Flow of the Month winner for November
December 31, 2018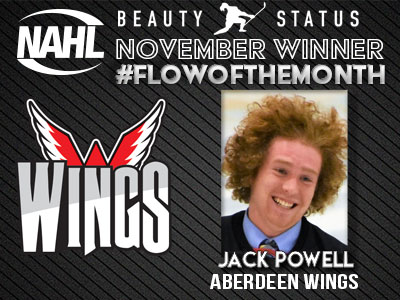 It's the most wonderful time of the year! Sure the holidays are fun, but we are talking about the latest winners for the Flow of the Month.
The Flow of the Month is brought to again by our partners at Beauty Status, the Official Hockey Apparel company of the NAHL. Beauty Status offers premium and genuine quality apparel with bold character inspired by hockey. Check them out online at: https://beautystatushky.com/
Coming Soon! Coming to an NAHL and NAPHL event near year you are the all new NAHL and NAPHL hats made by Beauty Status. They won't last long!
Here is how it works: Players in the NAHL and NA3HL are encouraged to submit photos of their best 'hockey hair' or 'flow' via social media or email during the regular season using the #FlowoftheMonth hashtag. The selected winners from each league will receive a Beauty Status hat.
With that said, the NAHL is entering the meat of the season and nearing the midway point and we have one that stood out. The winner is Aberdeen Wings defenseman Jack Powell.
This is the first year for Powell, 19, in the NAHL. So far in 10 games this season, the 5'11/181 lbs. native of Alexandria, Minnesota, has two assists. Powell also spent a portion of the 2016-17 season with the Alexandria Blizzard in the NA3HL.
Check out this sweet salad on Powell, which is clearly in mid-season form. He is having a great time playing for the Wings in the NAHL and clearly it has led to some of the 1st place magic the Wings enjoy. It's as if the heavens reached down and bolted Powell with about 20,000 watts of red lightning because that salad is in full auburn glory. Why even attempt to run a brush or comb this thing? Just let it go in all of its fiery glory for all to see. Code Red!
Beauty Status Hockey Co. is the exclusive sponsor of the Flow of the Month promotion exclusively on the NAHL and Beauty Status Twitter sites @NAHLHockey and @BeautyStatusHky
To enter the contest for the month of December, submit your best #FlowoftheMonth pictures by January 15, 2019, to @NAHLHockey and @BeautyStatusHky. Two winners will be selected on January 16, 2019. Winners will receive a Beauty Status hat.