December 28, 2018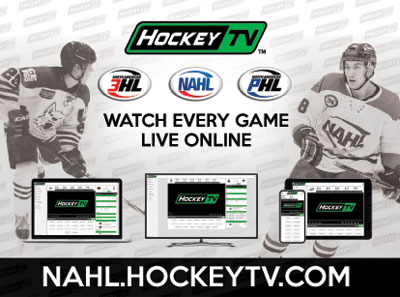 The last weekend of 2018 greets NAHL teams this weekend as the halfway point of the 2018-19 season is here. The weekend has a busy schedule of 21 games, which includes five games on New Year's Eve on Monday night.
The NAHL had a great week of news, which included more NCAA commitments and a glowing community service report for 2018.
In the Central Division, it is a full slate of games and two winning streaks are on the line. The 1st place Aberdeen Wings look to extend their seven-game winning streak with a three-game set against the Brookings Blizzard with the opening game in Brookings and the last two in Aberdeen. The Austin Bruins are also riding a seven-game winning streak and sitting just one point behind Aberdeen in the standings as they will face the Minnesota Wilderness this weekend in a three-game home-and-home set. The final series features the battle of North Dakota as Bismarck and Minot clash as both are trying to snap small losing skids.
There is just one series this weekend in the East Division as the Johnstown Tomahawks look to close in on clinching a playoff spot as the host the Northeast Generals for two games on Sunday and Monday. The rest of the division is idle this weekend.
In the Midwest Division, it is also a light schedule. The Janesville Jets look to gain ground on 1st place as they put their three-game winning streak on the line at home against the Kenai River Brown Bears. The other series features the Fairbanks Ice Dogs in Chippewa to take on the Steel in a two-game series. The Minnesota Magicians and Springfield Jr. Blues are both idle.
In the South Division, the red-hot Corpus Christi IceRays will put their 8-game winning streak on the line this weekend as they travel to Shreveport for two games against the Mudbugs with the two teams tied for 2nd place with 35 points each. The Lone Star Brahmas are in Odessa to take on the Jackalopes with both teams on the outside of the playoffs and needing wins and points. The final series takes place on Sunday and Monday as the 1st place Amarillo Bulls host the Topeka Pilots for two games. At 20-3-4, the Bulls have the 2nd best record in the NAHL.
FRI, DECEMBER 28
Aberdeen at Brookings - 7:05 PM CST
Kenai River at Janesville - 7:05 PM CST
Austin at MN Wilderness - 7:05 PM CST
Fairbanks at Chippewa - 7:10 PM CST
Lone Star at Odessa - 7:11 PM CST
Corpus Christi at Shreveport - 7:11 PM CST
Minot at Bismarck - 7:15 PM CST
SAT, DECEMBER 29
MN Wilderness at Austin - 7:05 PM CST
Kenai River at Janesville - 7:05 PM CST
Fairbanks at Chippewa - 7:10 PM CST
Lone Star at Odessa - 7:11 PM CST
Corpus Christi at Shreveport - 7:11 PM CST
Brookings at Aberdeen - 7:15 PM CST
Bismarck at Minot - 8:05 PM CST
SUN, DECEMBER 30
Topeka at Amarillo - 4:05 PM CST
Northeast at Johnstown - 7:00 PM EST
MON, DECEMBER 31
Northeast at Johnstown - 6:00 PM EST
Austin at MN Wilderness - 5:00 PM CST
Topeka at Amarillo - 7:05 PM CST
Brookings at Aberdeen - 7:15 PM CST
Minot at Bismarck - 7:15 PM CST