Amarillo forward Peterson makes NCAA DI commitment
December 19, 2018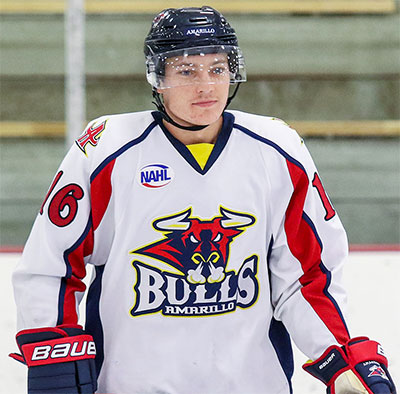 In nearly two seasons, Alex Peterson has quickly become one of the top forwards in the North American Hockey League (NAHL). Now, he will be able to take his skills and work ethic to the next level.
The Amarillo Bulls announced that forward Alex Peterson has announced his NCAA Division I College Commitment to the College of Holy Cross, in Atlantic Hockey, for the 2019-20 season. Peterson is the third Bulls player to attend the school joining defenseman Karl Beckman and goaltender Paul Berrafato.
In 81 games, with the Bulls Peterson has collected 24 goals and 28 assists for 52 points. He has eight power play goals and four game winners.
"It all came together pretty quick, but my parents and family have been very supportive," he said. "The school has a little bit of everything from great academics, to a good athletic hockey program that after speaking with the coaching staff appears to be headed in the right direction, and it's something I want to be a part of."
Peterson arrived in the Texas Panhandle two years ago after spending a season with the Philly Little Flyers Program of the Eastern Hockey League. He said it's special to think how far he has come. "Growing up this was one of my dreams to play Division I hockey," he said. "The past couple of years has been a long journey through juniors and (Head Coach) Rocky Russo has helped me out tremendously. I played for him in Philly two years ago and I never thought that it would work out like this and I'm really glad that it did."
Bulls Head Coach Rocky Russo said the entire Bulls organization is proud of his commitment to the school. "His contributions to our program over the last two years are being rewarded with a tremendous opportunity," he said. "On a personal level, it is very rewarding to have watched Alex's development over the last three years and see him reach his goal of being a student athlete at the NCAA Division I level. I have no doubt that Coach (David) Berard and his staff have added a tremendous hockey player to their College but more importantly a first-class person."
Peterson said the Amarillo Bulls organization has been a major part of getting him to the next level. "Without the organization I don't think I would be here right now," he said. "Playing with them last year was a big development piece for me even though we struggled. Coming back this year, we have certainly played well and that has helped with this opportunity. I want to thank my parents Rich and Denise, my sister Taylor, Rocky (Russo) George (Lewis), the Giacobbo family and the Little Flyers organization, as well as Rick Matchett and the Amarillo Bulls organization."
Peterson becomes the 4th Bulls player on the 2019-2020 roster to make his NCAA College Commitment, joining fellow players Brenden Datema (Michigan Tech), Jason Brancheau (Ferris State) and Logan Jenuwine (Western Michigan). He is the 99th Amarillo Bulls player to announce their NCAA College Commitment in nine seasons of the franchise in the North American Hockey League.