Titans blank Knights on Tuesday, 2-0
December 19, 2018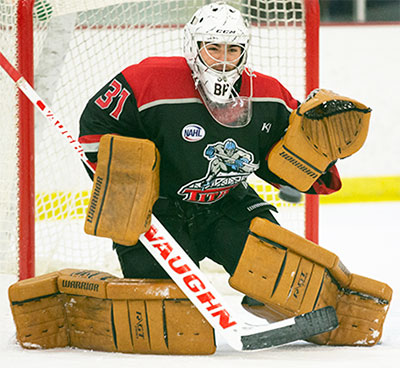 New Jersey 2 @ Wilkes-Barre/Scranton 0 - The Knights were unable to solve New Jersey's Brandon Perrone in a 2-0 loss on Tuesday at Revolution Ice Centre.
Both teams played a fast game throughout, with few stoppages and a playoff-like feel for two teams that have met in the postseason before. The Knights came knocking on the door first roughly five minutes in with what might have been their best chance of the game.
Jeffrey Bertrand was able to walk down the slot for a partial breakaway on Titans goalie Brandon Perrone, but the went to the splits as Bertrand began to deke, knocking the puck away with the right leg pad.
On the other side, a late period two-on-one for the Titans gave defenseman Danny Dimon a chance to break free for a shot, but the blue liner caught the left post behind Stejskal, keeping the game scoreless through 20 minutes.
It wasn't until 14 seconds remained in the middle period that the first goal would be scored. Ryan Namouvski fed a cross-ice pass to Dimon at the left point to setup. From there, Dimon would shoot into a sea of players crashing the net in front of Stejskal, where Kyler Head dug it free and shot home his fourth goal of the season.
At that mark, Zach Stejskal's incredible streak of minutes at home without letting a goal up to the Titans came to an end. The Minnesota-Duluth committed goalie went 201:53 seconds without allowing New Jersey to strike at Revolution Ice Centre. The last goal Stejskal left up was back in the first period against New Jersey on October 5th.
After a late second period tally, Head would score again; this time early in the third. Rushing down the right wing, Head put a wrist shot above the glove of Stejskal for the 2-0 lead.
Wilkes-Barre attempted to rally, outshooting the Titans 13-6 in the final period. At the 16:34 mark, Cade Penney took a slashing minor to give Wilkes-Barre a power play. Midway through the man advantage, the knights pulled Zach Stejskal in favor of a six-on-four. Anthony Mastromonica found a loose puck in front of Perrone after an initial point shot, but was robbed of a goal by another body-extending save from the Titans net minder, closing the door on the last quality chance the Knights had.