South Playoffs: Regular-season's best shooting for more
March 30, 2011
by Alex Kyrias | NAHL.com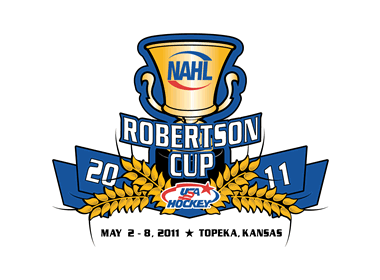 There's a lot of muscle in the South Division, starting with the Presidents Cup champion Topeka RoadRunners, who will host this year's Robertson Cup Championship Tournament.

In semifinals, the RoadRunners will tussle with the Wichita Falls Wildcats, while the No. 2-seeded Amarillo Bulls will take on the Texas Tornado.

Topeka RoadRunners vs. Wichita Falls Wildcats

As the league's top team in the regular season, the Topeka RoadRunners come into their South Division semifinals series against the Wichita Falls Wildcats as the heavy favorite.

The Wildcats, who arrived in the NAHL in 2003, have been to the playoffs three of the past four seasons. However, Wichita Falls has never made it out of the first round, which makes their task against the RoadRunners all the more daunting, but, as the old saying goes, that's why they play the game.

Topeka had great success against the Wildcats this season, going a perfect 7-0 against them. But, if there is a bright light for the Wildcats at the end of the tunnel it's the fact that they've played Topeka close in recent games.

The last two regular season matchups were decided by a total of three goals and, in both those games, Wichita Falls had leads that slipped away.

Statistically, the Wildcats are going to have to get production from leading scorer Dakota Klecha, who led the Wildcats this season in points against Topeka, and head coach Mark LeRose also indicated that the line of Jason McAloon, Nick Marsh and Russell Blaser will be a key for success in the series.

"We believe we can win the series, but we have to maintain our discipline and focus," LeRose said. "Topeka has very good depth and special teams, so we have to keep the 5-on-5 matchups we want and stay out of the penalty box."

The special teams LeRose refers to is Topeka's power play and penalty kill, both of which ranked in the top five in the NAHL this season. Topeka also led the league in shorthanded goals with 15.

LeRose indicated that both goaltenders, Tyler Green and Eric Garavaglia could see time between the pipes, but ultimately hopes to find a hot goaltender.

Because they are the Robertson Cup hosts this year, the RoadRunners will get an automatic berth to the season-ending national championship tournament, but that doesn't mean the Presidents Cup champs are going to take anything during the playoffs lightly.

"If anything, it will be the opposite," said Roadrunners head coach Scott Langer. "Our accomplishments to this point have been in the regular season. Our priority is winning each playoff game we can and becoming a better team in the process. You never know who can get hot for Wichita Falls and Mark LeRose will have them well-prepared, so we'll have to be, too."

Despite having one of the league's best offenses, it's the RoadRunners' defense which often gets overlooked. Topeka is fourth in the NAHL, allowing just 2.52 goals per game, while allowing just over 24 shots per game, which ranks second.

Backing those numbers up is the goaltending tandem of Rasmus Tirronen and Eric Rohrkemper.

"Defense and goaltending for us has been our hidden strength all season long," said Langer. "We want to force teams to have to work hard to score on us, and then backing that up has been Rasmus and Eric, who both have been fantastic."

So who will Langer start come the playoffs?

"I'm trying to let them sort it out, but it'll mainly be based upon this week of preparation. They both have played great, so we will be confident in no matter who we go with."

Langer did point out that leading scorer Michael Hill will be out for the series and possibly the remainder of the playoffs with an injury.

"It's frustrating to say the least because, most of all, Michael is a quality person. I think we have the depth in place to help fill that void on the ice, but we all wish he was out there. His impact on this team is measured a lot more than just his talent as a player."

Amarillo Bulls vs. Texas Tornado

Even the Las Vegas oddsmakers would have a tough time predicting and sizing up the Amarillo Bulls-Texas Tornado South Division semifinals series. After all, the teams finished with the same amount of points (78), but Amarillo ended up with the No. 2 seed thanks to one more win in the regular season than the No. 3 Tornado.

The playoffs will be completely new to the Amarillo Bulls, who have made as big of a first-year splash as anyone has in the NAHL in recent memory.

Their 36 wins ranked fifth in the NAHL this season and their lineup is filled with veteran players who head coach Dennis Williams is going to rely on for success in the series.

"I think everything starts in goal for us with Nikifor Szczerba," said Williams. "He 's been a workhorse for us this year and a guy that has played well all season long for us."

Szczerba, 21, tied for the most wins in the NAHL this season with 30 and was third in minutes played. His numbers against Texas were outstanding with a 1.97 goals-against average and a .941 save percentage. Williams also indicated that he'll need production out of his line of Zack Smoot, Matt Johnson and Dan Sherer, and that team captain Derek Hills would be key along the blue line.

Amarillo edged Texas in the regular season series, 5-3, with two of the wins coming in overtime and a shootout. Texas defeated the Bulls 3-1 on the final day of the regular season in Amarillo, but it's something that doesn't concern Williams.

"We didn't finish the regular season like we wanted, but we happy with No. 2 seed and home-ice advantage, because our guys worked hard for it. Our guys feel good and are ready for Texas," Williams said.

"Texas is good team. They're well coached, they're disciplined and it's definitely a team you don't want to give free chances to. If the last game taught us anything, it's that we have to eliminate turnovers and make smart choices."

The playoffs are nothing new for the four-time Robertson Cup champion Tornado, which has made the postseason in all 11 years of its existence. The Tornado has advanced out of the first round in nine of those 11 years. If the Tornado has anything going for them besides playoff history it was its stretch of games to end the regular season. The Tornado was unbeaten in regulation in its final eight games of the regular season, going 6-0-2, which was the best stretch of hockey since winning a league-high 15 games in a row in October and November.

"We're playing very well right now and we're confident that if we stick to the game plan, we can have success," said Tornado head coach Tony Curtale. "We've developed some good habits and gotten good some good goaltending, so hopefully we can carry that into the playoffs."

Ralfs Freibergs, who led all NAHL defensemen in scoring and assists this season, will be relied on heavily on the backend and the forward line of Jack Prince, Jackson Leef and Nate Sliwinski have been red-hot.

However, the biggest difference for Texas during its recent run to end the regular season has been depth at scoring and goaltending, something it'll need in the postseason.

Over its last 10 games, the Tornado has eight players who have averaged a point or better per game and goaltender Jimmy Kruger was lights-out in the month of March posting a 5-1-2 record with a 1.69 goals-against average and a .942 save percentage.