Kenai River goalie Enright makes NCAA DI commitment
December 13, 2018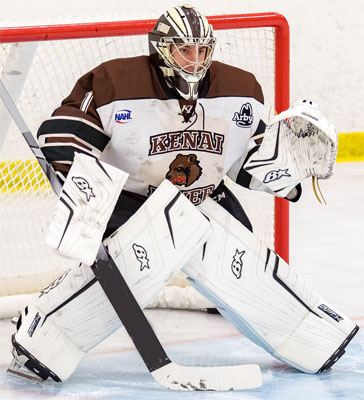 The Kenai River Brown Bears, proud members of the North American Hockey League, are excited to announce that second-year goaltender Gavin Enright has committed to play NCAA Division I hockey at Bemidji State University of the WCHA.
Enright, 19, has played 18 games this season for the Brown Bears with an 8-7-2 record. He has posted a 2.31 goals against average and .925 save percentage. Enright was named the Bauer Midwest Division Star of the week in October after stopping 48 of 50 shots in the home opening weekend sweep vs Chippewa.
Over his two years in the NAHL with the Brown Bears, he has played 58 games with a 17-29-2-3 record. He has a career 3.28 goals against average and .902 save percentage.
"Gavin spent this summer getting strong both physically and visually to have the season that he is currently having," said head coach Josh Petrich. "He is one of the hardest competitors I have ever coached and it has shown in his progress. Gavin made a very tough decision last season to forgo his senior year in Minnesota and make the jump to NAHL. He had a lot of ups and downs last year but the thing that never changed was his competitive nature. Bemidji State is getting a great goalie but even more important, a future leader on and off the ice and we could not be more excited for him."
"I am extremely honored to commit to Bemidji State University to further my academics and play Division 1 hockey. Thank you to my family, friends, teammates, and coaches who have helped me along the way," said Enright.
Enright becomes the fourth current or former Brown Bear to commit NCAA Division I this season joining Chris Lipe (Michigan Tech), Cam McDonald (Providence College), and Markuss Komuls (Alaska Fairbanks).
"Gavin and his teammates have set the bench mark of what it takes to be a Brown Bear today and into the future. They have a lot of pride in the Kenai Peninsula community and have no problem going out and competing every weekend to earn what they want to accomplish", said Petrich.