Bulls carry on tradition of visiting hospitals during holidays
December 6, 2018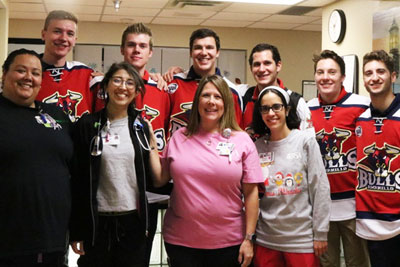 In what has become an annual tradition and an opportunity to spend time with those people who may not have the best holiday season, the Amarillo Bulls players and coaching staff took a moment from their busy schedule on Wednesday to visit the area hospitals.
Six Bulls players wearing brand new red jerseys first stopped by BSA Hospital and then later to the Children's Hospital of Northwest Texas Healthcare System where they sang Christmas Carols, handed out treats to the patients, as well as hockey tickets to the staff.
"Making our visit to the hospitals each year like we do is the highlight of the Christmas Season for us!" Said Bulls Vice President-General Manager Rick Matchett. "We enjoy meeting and talking with the kids, families and staff. Seeing them smile and laugh is what we truly enjoy!"
The Amarillo Bulls will be holding their annual Season Ticket holder and Fan Christmas Party next Wednesday, Dec. 12 at 6 pm in the Grand Plaza of the Amarillo Civic Center Admission is $12 for Season Ticket Holders and $15 for the General Public. A meal will be provided and there will be plenty of prizes to be given away throughout the night. Fans are encouraged to RSVP by Monday, Dec. 10.