December 5, 2018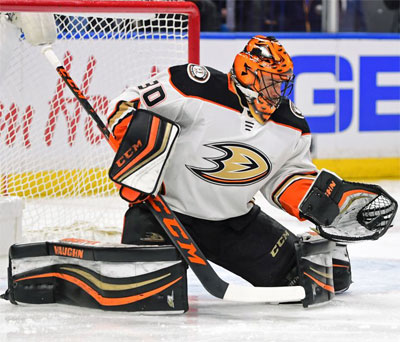 On Sunday, former NAHL Most Valuable Player Ryan Miller (Soo Indians) tied John Vanbiesbrouck for the career win record among American goaltenders (374). Miller, one of just two goaltenders to win the Hobey Baker Award, holds the NCAA record for career shutouts with 26. He went 73-18-12 in three years at Michigan State (1999-2002) and is one of five former NCAA goaltenders to win 300-plus NHL games.
Atlantic Hockey Rookie of the Month: Ludwig Stenlund, Niagara (Odessa Jackalopes)
Stenlund finished November with eight points (3 G, 5 A) in nine games that saw Niagara go 5-3-1, including 5-2-1 against Atlantic Hockey teams. Stenlund's five assists in November were tied for the most from any freshmen. His five power play points (2 G, 3 A) were the most in the conference. Nationally, Stendlund's finished the month tied for seventh overall among rookies with his eight points. However, solely against conference opponents, the Swede tied for second in the country in the same category.
ECAC Goaltender of the Month: Darion Hanson, Union (Aston Rebels, Lone Star Brahmas)
Hanson had a breakout month of November, leading the NCAA with a .972 save percentage and 0.97 goals-against-average. He finished the month with 104 saves (34.6 per-game), posting a 2-0-1 record. After a 34-save performance against Quinnipiac on November 10, the sophomore posted back-to-back 30+ save games against Yale and Boston University in Belfast, Northern Ireland, leading the Dutchmen to a "Friendship Four" title while earning MVP honors.
NCHC Player of the Month: Mason Morelli, Nebraska-Omaha (Minot Minotauros)
Morelli led Omaha to a 4-2-1 record in November after the Mavericks went winless in October as he led the NCHC in scoring with 12 points in seven games last month. His 1.71 points per game were also tops in the conference in November, while his seven assists tied for the NCHC lead. The team captain's five goals tied for fourth in the NCHC, including three on the power play and one game-winning goal. Morelli compiled four multi-point games and posted a +3 plus/minus in November, as well. Morelli opened his scoring in November with a goal and an assist in a win over Miami on Nov. 3, which was UNO's first win of the season. He added an assist in Omaha's split at Western Michigan Nov. 9-10, before piling up nine points in his final three games of the month. Morelli powered the Mavericks to a sweep of then-No. 16 Arizona State behind a seven-point weekend, which earned him NCHC Offensive Player of the Week and NCAA First Star of the Week honors. In the opener Nov. 23, he tallied a career-high four points, including a career-best three assists, in a 6-4 win. The next night he totaled three points, including his first multi-goal game this season when he potted the game-winner in a 4-0 shutout. Morelli closed November with a goal and assist in a tie against Colorado College on Nov. 30 to earn First Star of the Game. He also scored the deciding goal in the shootout against the Tigers for an extra NCHC point. Morelli finished November on a three-game point streak with four goals and five assists, while he fired 16 shots on goal in the month. He also blocked four shots and went 21-17 (.553) in the faceoff circle in November. On the season, Morelli is tied for the NCHC lead with 18 points on nine goals and nine assists.
NCHC Goalie of the Month: Hunter Shepard, Minnesota-Duluth (Bismarck Bobcats)
Shepard backstopped the Bulldogs to a 4-1-0 record in November, while leading all NCHC netminders during the month with a .949 save percentage, a 1.01 goals-against average and two shutouts. With his two shutouts, Shepard broke the school's career whitewash record with his 10th at UMD. He allowed only five goals all month, compiling 94 saves on 99 shots. His 1.01 GAA ranked third nationally in November, while his .949 save percentage was sixth in the country and his two shutouts tied for second. Shepard opened November with a sweep of Colorado College, conceding only one goal on the weekend. In his first game last month on Nov. 9, he stopped all 19 shots he faced for his first shutout of the season, while making 15 saves the next night in a 5-1 win. He was tabbed NCHC Goaltender of the Week for his efforts. The following weekend, Shepard racked up 28 saves in a split at then-No. 7 Denver. He then closed November with his record-breaking 10th career shutout, making 22 saves in a 5-0 win over North Dakota on Nov. 30, again garnering NCHC Goaltender of the Week honors for a second time. Shepard blanked the opposition in 10 of 15 periods, plus an overtime, during his five November games. He also helped the Bulldogs to an .889 penalty kill during the month, as only two of the five goals he allowed in November came on the power play. On the season, Shepard is 10-3-1 with an NCHC-best 1.75 GAA and a .922 save percentage.
WCHA Goaltender of the Month: Atte Tolvanen, Northern Michigan (Minot Minotauros/Minnesota Magicians)
Tolvanen was a stout workhorse in November, leading WCHA goaltenders in games and starts (nine), minutes (534:14), saves (227) and shutouts (two), while posting a .930 save percentage, a 1.91 goals-against average and a 4-5-0 record for a Northern Michigan team that scored just 1.78 goals per game. His shutout total tied for second nationally, while he ranked third in the league for both save percentage and GAA. The Vihti, Finland native was at his best against ranked opponents, especially on the road. Tolvanen turned in a 35-save shutout Nov. 3 at then-No. 9 Bowling Green, backstopping the Wildcats to a 2-0 win despite being outshot by 20. A night after making 34 stops at then-No. 20 Lake Superior State, Tolvanen made 25 more saves and held a shutout for 59:48 of a 2-1 triumph over the Lakers on Nov. 24. His final outing of the month was a 33-save effort Nov. 27 at now-No. 5 Notre Dame, helping NMU force overtime despite being outshot by a 35-19 margin. Tolvanen also turned aside 39-of-40 shots during a Nov. 16-17 series against Alaska Anchorage, leading the Wildcats to a sweep with 3-0 and 2-1 victories. Tolvanen is tied for the NCAA lead with three shutouts this season, while he ranks third with 389 saves. This is Tolvanen's first WCHA monthly award of the 2018-19 season and his third career honor.
Atlantic Hockey Player of the Week: Derek Barach, Mercyhurst (Lone Star Brahmas)
Derek Barach was stellar for Mercyhurst from an offensive standpoint, scoring five goals and adding an assist for a six-point weekend. He scored five consecutive goals between the two games, a natural hat trick to close Friday's 5-3, come-from-behind win, then the first two goals of Saturday's 3-2 victory.
Atlantic Hockey Defensive Player of the Week: Ryan Polin, American International (Topeka Roadrunners)
Ryan Polin's defensive acumen was critical to AIC's sweep of Holy Cross in a home-and-home series. He blocked a shot in each game, and in Saturday's win had the primary assist on both the tying and winning goal. He was a +4 on the week.
Atlantic Hockey Rookie of the Week: Josh Benson, Sacred Heart (Fairbanks Ice Dogs)
Benson had an impressive weekend as he tallied a total of 48 saves in goal in the two game series against Robert Morris. He only allowed a total of two goals in the series which allowed SHU to win the first game as he only allowed one to help give the Pioneers a 2-1 victory over the Colonials for the first time in program history.
AHL Player of the Week: Erik Condra, Texas Stars (Texarkana Bandits)
The American Hockey League announced that Texas Stars forward Erik Condra has been selected as the CCM/AHL Player of the Week for the period ending December 2, 2018. Condra extended his scoring streak to eight games by totaling four goals and four assists in three outings during the Stars' weekend road trip through the Midwest. On Friday night, Condra opened the scoring in Milwaukee and later chipped in an assist as Texas defeated the Admirals, 4-1. On Saturday, he scored another goal in the Stars' 6-3 loss at Grand Rapids. And on Sunday evening, Condra set a career high with five points (two goals, three assists) to spark Texas to a 7-4 victory at Chicago, earning first-star honors in the contest. With 10 goals and 11 assists in his last 12 games, Condra has climbed into a tie for third place in the AHL's scoring race with 26 points (11 goals, 15 assists) in 21 games overall this season. The 10th-year pro from Trenton, Mich., has skated in 259 career AHL contests with Texas, Syracuse and Binghamton, totaling 63 goals and 121 assists for 184 points and winning a Calder Cup championship in 2011. Condra was originally selected by Ottawa in the 2006 NHL Draft and has collected 39 goals and 59 assists for 98 points in 366 NHL games with Ottawa and Tampa Bay. He signed as a free agent with Dallas on July 1, 2018.