Amarillo defenseman Datema makes NCAA DI commitment
November 21, 2018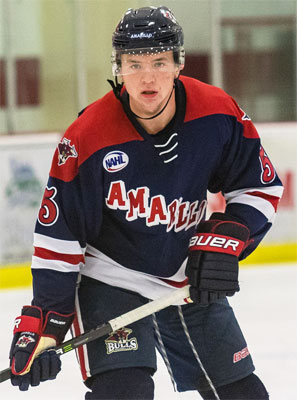 The Amarillo Bulls of the North American Hockey League (NAHL) are pleased to announce that defenseman Brenden Datema has committed to play NCAA Division I hockey for Michigan Tech University (WCHA) for the 2019-20 season. He's the third Bulls player on the 2019-2020 roster to make his NCAA College Commitment, joining fellow Michigan natives Jason Brancheau (Ferris State) and Logan Jenuwine (Western Michigan).
"I definitely knew I worked on a lot of things this summer, and the hard work paid off," Datema said. "I adjusted my schedule to what I needed to work on the most. My goal was to have a better year than last year, but I wasn't expecting to have 11 goals in 19 games as a defenseman to start the season."
The Sterling Heights, Michigan native said there were a number of factors in his decision to pick Michigan Tech, including the success of the program on the ice and the track record of the coaches. "I think combined they make a great trio," he said. "They are also great guys so I think they will take care of you. The school is unbelievable too, and very impressive being 8 ½ hours northwest of Detroit. I'm looking forward to being there every day."
In 19 games with the Bulls, Datema (6'5/220) has 11 goals and 11 assists for 22 points. Eight of this 11 goals have been netted via the power play and two are game winners. He was chosen as not only the South Division Player of the Week, but selected as the NAHL Defenseman of the Month for September.
Bulls Head Coach Rocky Russo said the team is proud and thrilled about the announcement. "He worked very hard on his game over the summer and the results he's having to this point speak for themselves," said Russo. "He has not only grown as a player but also as a person. His maturity level and work ethic have been a tremendous asset to our group. I'm very excited to watch Brenden continue to develop over the course of the year and help us in our pursuit of a Robertson Cup Championship."
Datema, 19, said he was first looking at going to school out East but is happy to be staying in his home state.
"Once I realized Michigan Tech was a realistic option I wanted to pursue it and take a look at the campus and what it had to offer," he said. "I think playing in Michigan will be a lot of fun and I'm looking forward to it."
Russo said that Michigan Tech is a great fit for Brendan not only athletically but also academically. "Coach Joe Shawhan and his staff are excellent leaders and developers of young men," he said. "It's a great opportunity for Brenden to grow as a player and student-athlete."
Datema credits several coaches for helping him to get where he is today. "I want thank Jeff Mitchell and Coach Chris Coury, and Coach Russo," He said. "Rocky not only helps you out on the bench but he's great in practice and off the ice. He's a great guy to have on your side and as my Head Coach."
Brenden Datema is the 98th Amarillo Bulls player to announce their NCAA College Commitment in nine seasons of the franchise in the North American Hockey League.