NAHL announces Bauer Hockey Divisional Stars of the Week
November 19, 2018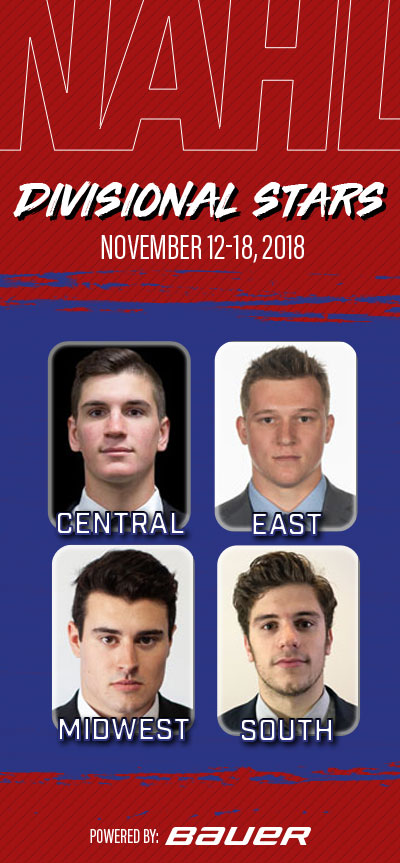 The North American Hockey League (NAHL) today announced the Divisional Stars of the Week presented by Bauer Hockey for the week ending November 18, 2018. The Divisional Stars of the Week is a weekly feature during the 2018-19 regular season that honors the top performing players in each of the four NAHL divisions. Only players that are nominated by their respective teams are considered for the Divisional Players of the Week award.
Watch: NAHL Stars of the Week video for November 12-18
Central Division Star of the Week: Ryan Fanti, goaltender, Minnesota Wilderness
The Minnesota Wilderness and goaltender Ryan Fanti, 19, pushed their winning streak to five straight games over the weekend with a home-and-home sweep of the Chippewa Steel. The 6'2/190 lbs. native of Thunder Bay, Ontario, backstopped the Wilderness to win in both games, allowing just a single goal in both outings. On Friday, Fanti made 40 saves in a 2-1 road win and on Saturday he made 30 saves in a 3-1 home win. Fanti, who has won his last six starts, has a 8-5-1 record to date with a 2.30 goals against average and a .927 save percentage. "Ryan has been on a really great run and is giving us a chance to win every night. He is a great kid and deserves everything he gets," said Wilderness head coach Dave Boitz.
2nd Star: Vince Marino, F, Brookings Blizzard
Honorable Mention (alphabetical): Daniel Chladek, F, Bismarck Bobcats - Garrett Dahm, F, Austin Bruins – Dylan Johnson, F, Minnesota Wilderness – Kevin Ness, F, Minot Minotauros – David Raisanen, F, Minot Minotauros – Dante Sheriff, F, Austin Bruins – Ryan Taylor, F, Bismarck Bobcats
East Division Star of the Week: Colin Price, forward, Johnstown Tomahawks
The Johnstown Tomahawks and forward Colin Price, 19, just kept winning this weekend as their winning streak reached an NAHL season-high 12 games in a row. The 6'0/195 lbs. native of North Ridgeville, Ohio, scored three goals in a weekend home sweep of the New Jersey Titans. Price, who was also a +4 on the weekend, had a goal in Friday's 4-3 win and two more goals in Saturday's 7-2 win. For the season, Price has 12 points in 23 games played. "Colin has really been starting to come on over the past month and it was really nice to see him have such an impact on our two wins this weekend. He is a prototypical 200-foot power forward and he was instrumental to our success. He is scoring in different ways and providing a heavy presence all weekend, and also fun to watch. I am very proud of Colin for the way he stepped up," said Tomahawks head coach Mike Letizia.
2nd Star: David Fessenden, G, Northeast Generals
Honorable Mention (alphabetical): Alex Frye, F, Jamestown Rebels – Andy Nedeljkovic, F, Johnstown Tomahawks
Midwest Division Star of the Week: Chris Konin, forward, Minnesota Magicians
Another NAHL team extending their winning streak and division lead this past weekend was the Minnesota Magicians, who swept the Janesville Jets at home this past weekend. Magicians forward Chris Konin, 18, played a big factor in this wins as the 6'0/196 lbs. native of Eden Prairie, Minnesota, posted three points and was a +3 in the two wins. On Friday, Konin had a goal in regulation and another goal in a shootout in a 3-2 shootout win. On Saturday, he assisted on both Magicians goals in a 2-0 win. For the season, Konin is 4th in team scoring with 15 points in 22 games played. "Chris has really progressed since the start of the season. He's a very skilled and smart player. When he goes to the hard areas it compliments his game as well. We are very happy with his play lately," said Magicians head coach AJ Bucchino.
2nd Star: Brandon Puricelli, F, Springfield Jr. Blues
Honorable Mention (alphabetical): Jonathan Panisa, F, Springfield Jr. Blues – Jack Robbel, G, Minnesota Magicians
South Division Star of the Week: Jay Feiwell, forward, Shreveport Mudbugs
Thanks to picking up three of a possible four points in a weekend home series against Odessa, the Shreveport Mudbugs stayed in 4th place in the NAHL playoff race in the South Division. Forward Jay Feiwell, 19, had four points in the two games. The 5'10/195 lbs. native of Carmel, Indiana, had two goals, including the game-winner, and an assist in Friday's 4-3 win. On Saturday, he picked up an assist in a 5-4 shootout loss. For the season, Feiwell is 5th in team scoring with 9 points in 13 games played. "Jay's consistent, hard working, attention to detail, and in-your-face play was the driving force behind him being named Mudbugs Captain. The Star of the Week recognition is nice feather in the cap for a guy that tries to do everything the right way and lead by example on the ice," said Mudbugs head coach Jason Campbell.
2nd Star: Michal Stinil, F, Lone Star Brahmas
Honorable Mention (alphabetical): Alex Camarre, G, Odessa Jackalopes – Blake Evenou, D, Lone Star Brahmas – Jack Jaunich, F, Shreveport Mudbugs