Bismarck forward Johannes makes NCAA DI commitment
November 19, 2018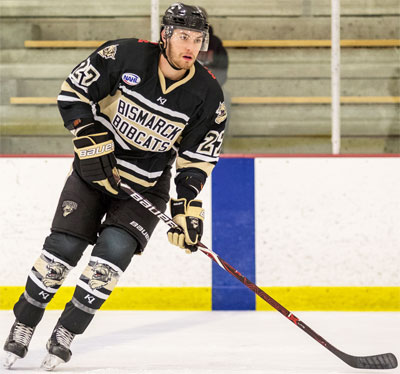 By Paul Teeple, Bismarck Bobcats
The Bismarck Bobcats of the North American Hockey League (NAHL) are proud to announce that veteran forward Hunter Johannes has committed to play NCAA Division I hockey at American International College starting in the fall of 2019.
"It's a great feeling, to be committed to play Division I hockey, for sure," expressed Johannes, who is in his second year of junior hockey out of Eden Prairie (Minn.) High School, "not only because you grow up dreaming of playing college hockey but because it lets you focus on this season and winning a Robertson Cup."
A 2018 tender signee, Johannes has 10 points on four goals and six assists in 17 appearances and is an alternate captain for the Bobcats.
"Hunter has provided a really strong veteran presence, which has been important with what a young team we have," noted Bobcats head coach and general manager Layne Sedevie. "His size and how well he skates for a big man have made him a big asset at the junior level and are why he's going to be valuable in Division I, as well."
American International is led by 1997 graduate Eric Lang, who is in his third year behind the bench at his alma mater. Three Bobcat alumni currently play for the Yellow Jackets—Jared Pike (2014-16), Patrik Demel (2015-16) and Tobias Fladeby (2015-17)—and current Bobcats Adam Stacho and Julian Timba are committed to play there, as well.
In weighing his Division I decision, Johannes consulted current and former teammates who are committed to or already on campus at AIC.
"I talked a lot with [former teammate] Eric Otto, who is already in the program and he gave me a really good picture of what the program and the culture were like and Julian and Adam both said they'd want to keep playing with me," added Johannes. "And talking with Coach Lang and the staff, it was clear they wanted what was best for me as a player and that means a lot to me."
"It was just a really good fit for me, in the end."
In choosing AIC, Johannes becomes the 10th current Bobcat to commit to play Division I hockey, joining: Mitch Walinski (Air Force), Stacho (AIC), Jacob Marti (Air Force), John Roberts (Northern Michigan), Timba (AIC), Kirklan Irey (Bemidji State), George Grannis (Clarkson), Christian Brune (Merrimack) and Andy Stoneman (St. Lawrence).