South Report: Wildcats confident heading into postseason
March 23, 2011
by Alex Kyrias | NAHL.com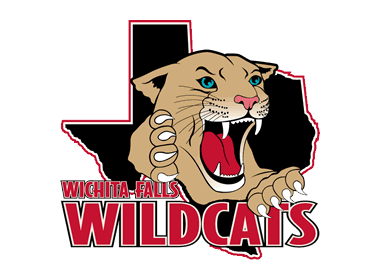 The Wichita Falls Wildcats are returning to the North American Hockey League (NAHL) Robertson Cup Playoffs this season for the third time in the last four years, but they're still looking for their first playoff series win.

The tall task facing the Wildcats this time around will be figuring out how to win three games against the league's best team, the Topeka RoadRunners - a team the Wildcats went winless against this season in seven tries.

Despite the daunting task, Wildcats head coach Mark LeRose is confident his team will be ready.

"I thought we played Topeka real tough in the majority of our games this season," remarked LeRose. "We led in some of the games, but I thought we lost focus and discipline at times, which is something you can't do against Topeka. They have incredible special teams, so it's something we have addressed and talked about going into the series."

And while not wanting to give away his entire strategy against Topeka, LeRose made it clear what his team needs to do to have a chance.

"The good news is we're in the playoffs, but we have to watch our penalties and be more disciplined," said the coach. "Topeka has very good special teams and depth, and there are no holes in their team.

"The more we can play 5-on 5-hockey and rely on matchups, the better off we'll be. If we can focus, play tight defensively and stay out of the box, we have a good chance for success."

Lately, Wichita Falls has gained some late-season confidence with wins against playoff-bound Amarillo and Texas. In those wins, the Wildcats got timely and balanced scoring, along with good goaltending, something LeRose has place a bog focus on.

"Goaltending will be key in the series for us," he said. "We're going to have to go with who's hot and who gives us the best chance to win each game."

LeRose indicated that both goaltenders Tyler Green and Eric Garavaglia will get a chance to play this weekend and give the coaches one last look as the Wildcats finish out the regular season in Fresno.

And, while Green has played more minutes and has more wins, it's Garavaglia who has the slightly better goals-against average and save percentage.

"If you make a mistake when selecting your goalie for the playoffs, your season will be over, so this is something we're looking at and taking very seriously," said LeRose.

Another reason the Wildcats believe they have a good chance is because of the recent play of the line of forwards Jason McAloon and Nick Marsh. Despite not being the first option offensively, LeRose says that it's the intangibles that made the duo so effective.

"Not only have they been playing well offensively, but they help us in so many other areas like penalty-killing, blocking shots and matchups," said LeRose. "I think once we got Russell Blaser at the trade deadline and put him with McAloon and Marsh all together on that line, they've been one of the most consistent players for us.

"This team believes we can win this series," LeRose added. "We have a plan and we have confidence as a team that this is something we can accomplish. We're facing a very good team, but this is the time of year that anything is possible."

SOUTH DIVISION NOTEBOOK

AMARILLO BULLS: The Bulls enter their final week of the regular season just one win away from securing the second seed and home-ice advantage in the South Division semifinals, which will be against the Texas Tornado beginning the first weekend in April. Last weekend, the Bulls split with the visiting Corpus Christi IceRays. On Friday, Mitch Rogge scored twice and Karl Beckman had two assists in a 3-2 win. On Saturday, Michael Erickson scored twice in the first period to give the Bulls a 2-1 lead after the opening 20 minutes, but Corpus Christi scored nine goals in the final two periods to defeat the Bulls, 10-3. The Bulls will play their final three games of the regular season this week as they travel to first-place Topeka for two games on Wednesday and Thursday, and then host Texas on Saturday. The Bulls are 4-5-1 against the RoadRunners this season.

CORPUS CHRISTI ICERAYS: Despite being shutout on Friday in Texas, 5-0, the IceRays split on the road against the Amarillo Bulls last weekend and, in the process, snapped a six-game losing skid. On Friday, goaltender Pheonix Copley made 30 saves, but 'Rays were blanked by the Tornado. On Saturday, the IceRays led 2-1 on goals from Mike Benedict and Cody Milligan before two goals by the Bulls in the third-period edged out the IceRays, 3-2. However, on Sunday, the IceRays broke out for a season-high 10 goals in a big 10-3 win over Amarillo. Joe Smereck had two goals and two assists, and Jordan Miller, Brandon Marshall, Colton Saucerman, Terry Portra and Beau Walker all had three-point nights in the IceRays' biggest win of the season. The IceRays return home for their final two games of the season as they host New Mexico on Thursday and Friday.

NEW MEXICO MUSTANGS: New Mexico had a very busy week last week playing four games in five nights. The Mustangs rounded out their home schedule taking a possible three of four points from the playoff-bound Wenatchee Wild. On Tuesday, rookie Zach Badalamenti scored both goals in a 3-2 shootout loss. The Mustangs rebounded on Wednesday with a 3-2 win as Adam Chapie scored the game-winning goal and Lukas Hernandez made 21 saves. On Friday, New Mexico got two goals from Ian McGilvrey and three points from Charles Baldwin in a 5-3 win at Wichita Falls. On Saturday, the Mustangs got a goal from Christian Johnson and 35 saves from Hernandez, but fell short in the final minutes of the game as the Wildcats earned a split with a 2-1 win. This weekend, the Mustangs travel to Corpus Christi for their final two games of the season beginning Thursday.

TEXAS TORNADO: The Tornado won both of its games last week and remain in the hunt for the second seed in the South Division heading into this week's games. On Tuesday, Texas outshot Wichita Falls 44-24 and got multi-point nights from Jackson Leef, Nate Sliwinski, Taylor Herndon and JD Howard in a 6-1 win. On Friday, goaltender Jimmy Kruger posted his third shutout of the season with 22 saves in a 5-0 win over Corpus Christi. Herndon chimed in again offensively, scoring another two goals and adding an assist on his way to South Division Player of the Week honors, and Mico Solorzano also added two assists in the win. Defenseman Ralfs Freibergs has set a new single-season mark for points by a Tornado defenseman in a season. Ironically, Texas finishes its regular season on Saturday on the road against their South Division semifinal opponent, the Amarillo Bulls.

TOPEKA ROADRUNNERS: The RoadRunners lost back-to-back games in regulation for just the second time all season, as they were swept at home last weekend by the first-place and North Division champion St. Louis Bandits. Despite playing without three regular players, the RoadRunners nearly completed a big comeback on Friday as St. Louis jumped out to a 3-0 lead. However, behind third-period goals from Justin Hussar and Bob Marx, Topeka closed the gap to 3-2, but couldn't find the game-tying goal in the late stages. On Saturday, despite outshooting the Bandits 30-15, the RoadRunners only managed one goal from Zach Schrotenboer in a 5-1 loss. Hussar picked up an assist on the goal, giving him a multi-point weekend for the RoadRunners, who had their 10-game winning streak snapped in the losses. Topeka plays their final two games of the regular season on Wednesday and Thursday as they host the Amarillo Bulls this week.