November 16, 2018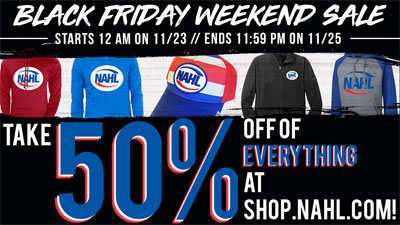 It is a big weekend in the NAHL as 19 games are on the schedule for Friday, Saturday, and Sunday. Several teams are off for the pre-Thanksgiving holiday, but those that are playing offer several exciting match-ups.
It was another exciting week for the NAHL, which saw its numbers stay steady and consistent on the latest NHL Central Scouting rankings and prospects to watch list for November. The mid-term rankings will be out in January.
To date, the NAHL has 111 NCAA commitments so far during the 2018-19 season.
In the Central Division this weekend, the division-leading Minot Minotauros will try and extend their winning streak and division lead with a home series against the Brookings Blizzard. The Blizzard enter the weekend trying to snap a six-game losing streak. The other series features the Bismarck Bobcats in Austin to face the Bruins. Both teams have five wins in their last 10 games and are separated by just four points in the standings from 2nd to 4th place. The Minnesota Wilderness will step outside the division to host a battle with cross-state rival Chippewa. The Aberdeen Wings are idle.
IN the East Division, the big series of the weekend is the division-leading Johnstown Tomahawks putting their 10-game winning streak on the line against the 2nd place New Jersey Titans. The Titans are 8-2-0 in their last 10 games, so it should make for a great series between the division's top two teams to this point. The Maryland Black Bears will look to hold onto the final playoff spot in the East as they travel to Northeast for three games against the Generals, who are just three points behind the Black Bears. The Jamestown Rebels will look to finish off a sweep of Wilkes-Barre/Scranton on Friday as they took home a 4-2 win on Thursday.
In the Midwest, the only intra-divisional series features the top two teams in the division as the 1st place Minnesota Magicians host the 2nd place Janesville Jets. The Magicians enter the weekend with an 8-2-0 record in their last 10 games. Outside of the division, the Chippewa Steel are in Cloquet, MN, to take on the Wilderness and the Springfield Jr. Blues, winners of their last three straight, host the Topeka Pilots from the South Division. Fairbanks and Kenai River are idle.
In the South Division, teams will look to gain valuable points in the standings with 1st place Amarillo idle this weekend. The 2nd place Topeka Pilots will travel to Springfield for a pair of games as they look to snap a four-game losing streak. The Lone Star Brahmas will travel South for a pair of games against the Corpus Christi IceRays, and streaks collide in Shreveport as the 4th place Mudbugs, losers of their last three games, will host the 5th place Odessa Jackalopes, who have won three straight.
FRI, NOVEMBER 16
Jamestown at Wilkes-Barre/Scranton - 3:00 PM EST
Bismarck at Austin - 7:05 PM CST
Lone Star at Corpus Christi - 7:05 PM CST
New Jersey at Johnstown - 8:05 PM EST
Topeka at Springfield - 7:05 PM CST
MN Wilderness at Chippewa - 7:10 PM CST
Odessa at Shreveport - 7:11 PM CST
Janesville at MN Magicians - 7:15 PM CST
Brookings at Minot - 7:35 PM CST
SAT, NOVEMBER 17
New Jersey at Johnstown - 7:00 PM EST
Maryland at Northeast - 7:00 PM EST
Topeka at Springfield - 6:05 PM CST
Janesville at MN Magicians - 7:00 PM CST
Bismarck at Austin - 7:05 PM CST
Lone Star at Corpus Christi - 7:05 PM CST
Odessa at Shreveport - 7:11 PM CST
Chippewa at MN Wilderness - 7:35 PM CST
Brookings at Minot - 8:05 PM CST
SUN, NOVEMBER 18
Maryland at Northeast - 4:30 PM EST