NAHL announces Beauty Status Flow of the Month winner for October
November 15, 2018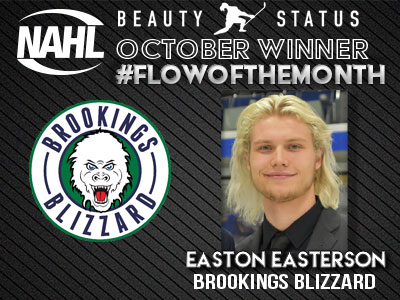 We are back! Yes, without further delay, the NAHL is pleased to announce to the return of the Flow of the Month.
The Flow of the Month is brought to again by our partners at
Beauty Status
, the Official Hockey Apparel company of the NAHL. Beauty Status offers premium and genuine quality apparel with bold character inspired by hockey. Check them out online at:
https://beautystatushky.com/
In case you are new to the Flow of the Month scene, here is how it works: Players in the NAHL and NA3HL are encouraged to submit photos of their best 'hockey hair' or 'flow' via social media or email by the end of every month during the regular season using the #FlowoftheMonth hashtag. The selected winners from each league will receive a Beauty Status hat.
With that said, we are off to a great start in the NAHL with some great flows on both veterans and rookies alike. However, one stood out in the month of October to take home our first honors of the year.
The winner for October is Brookings Blizzard forward Easton Easterson.
This is the first year for Easterson, 18, in the NAHL. So far in 11 games this season, the 6'1/185 lbs. native of Canyon Country, California, has one goal.
However, when it comes to the flow game we clearly have an All-Star on our hands. Every year with the first Flow of the Month candidate, we want to make a splash and Easterson dives right in with a strong salad of golden greatness.
When he walks into the locker room it has to be like a ray of sunshine as his hair clearly is the focal point as it dangles from his head like Thor-like spaghetti. But did Easton stop there? On no... he also chimes in with one of the better names we have seen in the NAHL in a while, Easton Easterson.
He is the complete package and we hope that this distinctive honor not only leads him to further success on the ice, but perhaps and place in the NAHL Flow of the Month Hall of Fame. What a way to kick things off!
Beauty Status Hockey Co. is the exclusive sponsor of the Flow of the Month promotion exclusively on the NAHL and Beauty Status Twitter sites
@NAHLHockey
and
@BeautyStatusHky
To enter the contest for the month of November, submit your best #FlowoftheMonth pictures by November 30th to
@NAHLHockey
and
@BeautyStatusHky
. Two winners will be selected on December 1st. Winners will receive a Beauty Status hat.