Minot widens Central lead with win on Monday
November 13, 2018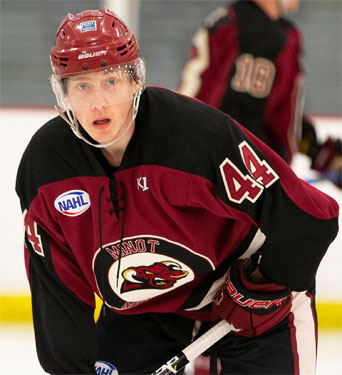 Bismarck 3 @ Minot 4 - The Minot Minotauros increased their lead on the Central Division to three points with a big home win over the Bismarck Bobcats on Monday night.
It did not take long for Minot's Wilmer Skoog to open the scoring. Just 1:03 into the game Skoog scored with help from Lincoln Erne and Brennan Couet giving the Tauros a 1-0 lead on the first shot of the game. Minot's Kyle Oleksiuk doubled the lead in the middle portion of the period off of a nice feed from Justin Kelley. Daniel Chladek got the Bobcats on the board late in the period when a rebound went off of his skate into the net behind reigning NAHL Central Star of the Week Nick Grabko.
In the 2nd period, Kelley score a goal of his own sending a shot off the crossbar an in to extend the Tauros' lead to 3-1. But the Bobcats answered back again when Will Fisher took advantage of a turnover and flipped a puck on net that Grabko deflected but still could not stop from going in. With less than a minute remaining in the middle period Andrew Kangas redirected a Couet shot from the point past Bismarck goaltender John Roberts to give the Tauros a 4-2 lead.
Chladek added his second of the game just 2:36 into the third giving the Bobcats hope but the Tauros would outshoot them 16 to four in the final 20 minutes to ice away the victory. Grabko made 21 saves in the win, while John Roberts made 42 saves in the loss.