NAHL announces Bauer Hockey Divisional Stars of the Week
November 12, 2018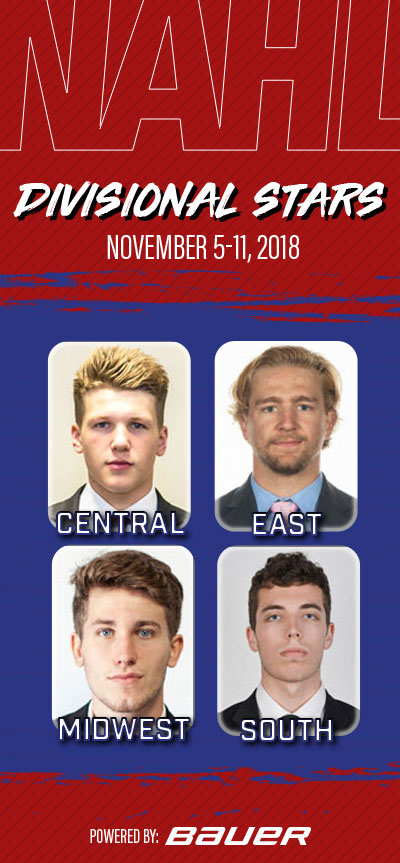 The North American Hockey League (NAHL) today announced the Divisional Stars of the Week presented by Bauer Hockey for the week ending November 11, 2018. The Divisional Stars of the Week is a weekly feature during the 2018-19 regular season that honors the top performing players in each of the four NAHL divisions. Only players that are nominated by their respective teams are considered for the Divisional Players of the Week award.
Watch: NAHL Stars of the Week video for November 5-11
Central Division Star of the Week: Nick Grabko, goaltender, Minot Minotauros
Thanks to two road wins in Austin against the Bruins, the Minot Minotauros took over 1st place in the Central Division. Goaltender Nick Grabko, 18, started and won both games for Minot in the series, stopping 62 of a possible 64 shots. On Friday night, the 5'11/175 lbs. native of Channahon, Illinois, stopped all 30 shots that came his way for his second shutout of the season in a 2-0 win. On Saturday, he made 32 saves in a 4-2 win. For the season, Grabko has an 8-2-0 record and ranks 3rd in the NAHL with a .937 save percentage. "Nick was superb this weekend in a couple of tough road wins. He gave us a chance to win both games and he gives our players confidence to play in front of him. Even though he's a first year player, he plays like a seasoned veteran," said Minot head coach Marty Murray.
2nd Star: Austin Jouppi, F, Bismarck Bobcats
Honorable Mention (alphabetical): Fritz Belisle F, Minot Minotauros – Ryan Fanti, G, Minnesota Wilderness – Sam Malinski, D, Bismarck Bobcats – Nic Sicoly, F, Aberdeen Wings – Jack Suchy, F, Minnesota Wilderness – Dalton Weigel, D, Aberdeen Wings
East Division Star of the Week: Carter McPhail, goaltender, Johnstown Tomahawks
There is no team hotter or has a better record in the NAHL currently than the Johnstown Tomahawks, who ran their winning streak to 10 straight games with three more wins this past week. Goaltender Carter McPhail, 19, started and won all three games during the week, giving up just four goals in the process. In total, the 5'11/176 lbs. native of Fenton, Michigan, stopped 85 of 89 shots during the week, posting a save percentage of .955. That included 40 saves in a 6-1 win over Maryland on Friday night. For the season, McPhail is tied for the NAHL lead with 10 wins and ranks 2nd in both goals against average (1.80) and save percentage (.939). "Carter played a big hand in our three wins this week as he started all three games and was great in all of them, including a shootout victory in the third game of the week. Each night he gave our team a chance to win and made some big saves along the way. The best thing about Carter is that his number one focus is winning hockey games for the team and letting everything else individually take care of itself. He has a great work ethic and I am very happy to see him recognized for the work he continues to put in to help our team have success," said Johnstown head coach Mike Letizia.
2nd Star: Ryan Rowland, D, Northeast Generals
Honorable Mention (alphabetical): Jacob Badal, F, Wilkes-Barre/Scranton Knights – Cameron Hebert, F, Johnstown Tomahawks – Zach Stejskal, G, Wilkes-Barre/Scranton Knights
Midwest Division Star of the Week: Joel Pavey, forward, Minnesota Magicians
Minnesota Magicians forward Joel Pavey, 18, had his best weekend in an NAHL uniform as he helped the Magicians pick up a weekend road sweep in Kenai River against the Brown Bears. The 5'11/180 lbs. native Sarnia, Ontario, posted four points (2 goals, 2 assists) and was a +3 in the two wins. On Friday, Pavey had two goals, including the game-winner, in a 3-0 win. On Saturday, he had a goal and an assist in a 3-2 win. The four points were Pavey's first in the NAHL this season. "Joel helped our team in all areas this weekend. He contributed defensively, offensively, and had a strong role with special teams. He is a gritty competitor that has truly embraced his opportunity with us," said Magicians head coach AJ Bucchino.
2nd Star: Jack Williams, G, Springfield Jr. Blues
Honorable Mention (alphabetical): Cole Brady, G, Janesville Jets – Max Brainin, F, Springfield Jr. Blues – Jacob Dirks, F, Chippewa Steel – Tanner Edwards, F, Fairbanks Ice Dogs – Gavin Enright, G, Kenai River Brown Bears – Jack Johnston, F, Fairbanks Ice Dogs – Josh Langford, G, Chippewa Steel – Jack Robbel, G, Minnesota Magicians – Jack Vincent, F, Janesville Jets – Denis Westergard, G, Kenai River Brown Bears
South Division Star of the Week: Jason Grande, goaltender, Amarillo Bulls
Thanks to taking five of six points this past weekend in Corpus Christi, the Amarillo Bulls sit atop of the South Division with a seven-point lead and the league's second best record. Veteran goaltender Jason Grande, 19, was in goal for both of the Bulls wins over the weekend, giving up just a single goal in two games. The 6'4/180 lbs. native of West Chester, Pennsylvania, faced 57 of 58 shots in the two wins, which included a 25-save shutout in a 4-0 win on Sunday and 32 saves in a 3-1 win on Friday. For the season, Grande boasts a 8-3-1 record and is 5th in the NAHL with a 2.02 goals against average. "Jason has been our most consistent player for the past two months. He is very calm in the net, controls his rebounds and creates a confidence for our team that has allowed us to be successful. He is generating a significant amount of interest at the NCAA Division I level and will be a tremendous addition to whichever program he elects to go to," said Bulls head coach Rocky Russo.
2nd Star: Kade Phipps, G, Odessa Jackalopes
Honorable Mention (alphabetical): Blake Bennett, F, Corpus Christi IceRays – James Crossman, D, Odessa Jackalopes – Harrison Feeney, G, Lone Star Brahmas – Logan Jenuwine, F, Amarillo Bulls – Clayton Lackey, F, Lone Star Brahmas