Kenai River defenseman Komuls makes NCAA DI commitment
November 12, 2018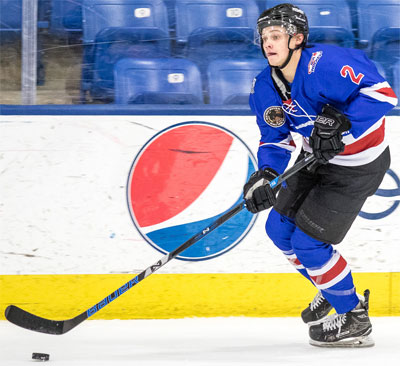 The Kenai River Brown Bears, proud members of the North American Hockey League (NAHL), are pleased to announce that defenseman Markuss Komuls has committed to play NCAA Division I hockey for the University of Alaska-Fairbanks.
When he was just 16, Komuls left his home country of Latvia to come to the United States and pursue his goal of playing college hockey. After time in Vermont, Pennsylvania and now Alaska, Komuls (6'0/190) announced his commitment to play college hockey for the University of Alaska-Fairbanks. He is the second Kenai River player to go Division I this season, joining Eagle River's Cam McDonald.
"He sacrificed a lot," Brown Bears head coach Josh Petrich said. "He's given up a lot of time with his family and friends, and time in his own country, to achieve this."
Komuls, now 20, was traded to the Brown Bears just four games into last season. Since then his opinion of Alaska has evolved, allowing him to commit to spending four more years in the state.
"When we first traded for him, he wasn't sold on the idea of coming to Alaska," Petrich said. "He's learned to enjoy it."
Petrich said Komuls is professional and thorough in everything he does, from taking care of his body to the extensive college search that has played out for a year and a half. Petrich said he congratulated Komuls on the commitment, and Komuls asked him another question. "I had to say, 'Markuss, this is the time to tell you congratulations. This isn't the time for more questions,'" Petrich said. "He's such a methodical kid."
Komuls had eight goals and 27 assists for the Bears in 49 games last season, and also was named North American Hockey League Defenseman of the Month. He was also selected to and played in the 2018 NAHL Top Prospects Tournament for the Midwest Division Team.
This year, he has four goals and 11 assists for 15 points in 20 games, which ranks tied for 3rd among all NAHL defensemen.
Last year, when the Bears were in town to play the Fairbanks Ice Dogs, Erik Largen, then the assistant and now the head coach at UAF, led the team on the tour of the facilities. Largen added Karlis Zirnis this summer as an assistant. Zirnis was Komuls' U20 coach for Team Latvia.
Petrich said a lot of Brown Bears are getting Division I interest. That's a result of a culture change that Komuls, an assistant captain this season, has helped foster.
"One of the main keys for us has been a change in the culture, in how we prepare and work and do all the stuff we do," Petrich said. "He's been a huge key to it.
"I'm really happy and excited for him to have this opportunity."