Jackalopes, Bulls claim close wins on Sunday
November 11, 2018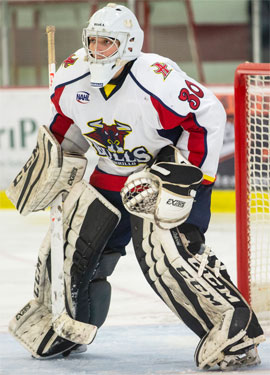 Topeka 2 @ Odessa 3 (SO)
– The Odessa Jackalopes put themselves right back in the playoff race in the South Division as they completed a three-game weekend home sweep of the Topeka Pilots thanks to a come-from-behind 3-2 shootout win on Sunday. The Pilots had two, one-goal leads, but the Jacks came back each time. The Pilots led 1-0 after the 1st period thanks to a goal from Dallas Tulik. Odessa tied the game at 1-1 thanks to a goal early in the 2nd period from Matt Minerva. The Pilots would once again regain a one-goal edge thanks to a goal later in the 2nd period from Quinn Green. Late in the 3rd period the Jackalopes found the equalizer thanks to James Crossman's 6th goal of the season. In the shootout, Odessa made quick work of things to get the extra point as Jared Christy and Michael Sacco both scored. Kade Phipps picked up the win in goal, making 34 saves, while Sam Metcalf took the loss with 35 saves.
Boxscore
Amarillo 4 @ Corpus Christi 0
- Jason Grande stopped all 25 shots that came his way for his second shutout of the season as the Bulls widened their lead atop the South Division thanks to a 4-0 win on Sunday against the IceRays. The Bulls ended up claiming five of a possible six points in the weekend series. The Bulls took the lead for good with a 1st period power play goal from Brett Abdelnour. The lead swelled to 2-0 as Logan Jenuwine scored his 13th goal of the season in the 2nd period. The Bulls added two more goals in the 3rd period for security as Brenden Datema and Jason Brancheau both scored. IceRays goalie Florian Mnich made 28 saves in the loss.
Boxscore