Central Report: Chill sets sights on division title
March 22, 2011
by Brian McDonough | NAHL.com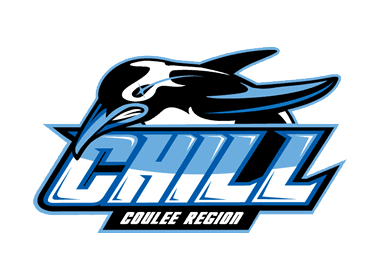 There's one regular-season division champion yet to be crowned in the North American Hockey League (NAHL) and that's in the Central, where the front-running Coulee Region Chill is in good position to lay claim to the title in its first year in town.

The Chill, which has 71 points and three games left to play, leads Owatonna by two points (two games in Bismarck remaining) and Alexandria by five (three remaining).

And the plot thickens as Coulee Region plays the Blizzard on the road on Friday and Saturday. The Chill's last game is against Austin on Sunday, while Alexandria faces off against Bismarck in its regular-season finale.

"The players have worked hard all season for this, and a chance to have home ice throughout the playoffs would be huge," said Chill head coach Garrett Strot. "Those games against Alexandria are really going to have a playoff-like atmosphere."

The parity in the Central this season has been second to none. Of the four playoff-bound teams, only seven points separate Nos. 1-4 and still no postseason matchups have been solidified heading into the final weekend of play.

"It's been a battle all year," Strot said of the competitiveness in the division. "Every team seems to beat each other and the balance has been incredible."

Coulee Region, fresh off of a 3-0 conquest last weekend, points to its cohesion as a main ingredient to this season's winning recipe, as 22 of its 23 players have been with the club since Day 1.

"The chemistry on our team has been great all year, and our stability has been a big part of our success," said Strot. "We haven't had a revolving door of players and we believe in the guys we brought in through tenders, the draft and camps."

Two of last weekend's victories came against Wisconsin foe Janesville. With the wins, the Chill captured the Wisconsin Dairyland "Milk Can" trophy after winning the season series over the Jets with a 5-2-1 record.

"Our rivalry with Janesville has been great and (the Milk Can) was fun to play for," said Strot. "It's something I'm sure will only grow over the years."

As will the support in Coulee Region, which encompasses Onalaska and LaCrosse, Wis. The team has been nothing but pleased with the community's reception to the club since it relocated from Mason City, Iowa, after last season.

"The fans here have been tremendous and it's only going to get better each year," said Strot. "The players have all enjoyed the area and being a part of this community and all it has to offer."

Wherever it ends up on Sunday, the Chill is confident it can make a meaningful run in the postseason - one it hopes ends in Topeka, the site of this year's Robertson Cup Championship Tournament.

"For us to be successful, we need to keep doing the little things and play solid in our defensive zone and be smart with the puck," said Strot. "We need to play with a lot of energy and have good special-teams play; a lot of times playoff games can be decided by special teams."

And, says Strot, continued hot play between the pipes from goaltenders Paul Moberg and Aaron Davis won't hurt, either.

"That's what you want going into the playoffs," he said.
CENTRAL DIVISION NOTEBOOK

ABERDEEN WINGS: Aberdeen picked up two wins in three games last week: one over Alexandria (5-4) and the other against Austin (6-2). Forward Tyler Poulsen (two goals, three assists), Louis Educate (three goals, assist) and Cory Ward (goal, three assists) led the Wings' offensive charge in the three contests. The curtain comes down on the Wings' first NAHL season with a two-game series against Austin on Friday and Saturday.

ALEXANDRIA BLIZZARD: In four games last week, the Blizzard fashioned a 2-1-1 record with those two wins coming against Bismarck. Forward Alex Altenbernd connected for three goals and two assists in the victories, which helped Alexandria leapfrog the Bobcats into third place in the standings. Altenbernd has points in his last eight games (10 goals, six assists).

AUSTIN BRUINS: Austin put together a 2-2 record last week, with its wins coming against Bismarck (2-1) and Aberdeen (3-1). Goaltender Keegan Asmundson came up big in both victories, allowing only two goals against on 86 shots. The Bruins close their first NAHL campaign with a two-game series in Aberdeen on Friday and Saturday and their season finale in Coulee Region on Sunday.

BISMARCK BOBCATS: Bismarck dropped all three of its games last week: two to Alexandria and one to Austin. Forward Castan Sommer tallied a pair of goals and an assist in the Bobcats' 4-3 loss to the Blizzard on Friday. The Massachusetts native has eight goals and five assists in only 16 games with the team.

OWATONNA EXPRESS: Still in contention for the regular-season division title - the Express trails Central-leading Coulee Region by two points with two games remaining - Owatonna outlasted Alexandria in a nine-round shootout on Sunday, 5-4. Forward John Haeg recorded a hat trick in regulation in the win - the Express' only game of the weekend - and forward Jake Youso, a Holy Cross recruit, scored the game-winner in the shootout.