November 8, 2018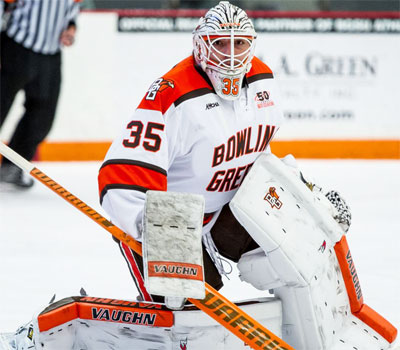 ECAC Goaltender of the Month and Week: Jake Kielly, Clarskon (Austin Bruins)
Kielly has also been strong for Clarkson of late, surrendering two goals or less in each of his past three starts. The junior has made 123 saves this season, and boasts a save percentage of .911. His 26-save performance against Wisconsin allowed the Golden Knights to pick up their first win of the year, and they have not looked back since, winning three straight games to close out October. This week, Kielly had another strong week for Clarkson, saving 60 shots over the two games this past weekend. He allowed just one even strength goal during the two game set, and recorded his first shutout of the year on Friday against RPI.
WCHA Goaltender of the Month: Ryan Bednard, Bowling Green (Johnstown Tomahawks)
Bednard backstopped Bowling Green from unranked in preseason polls to No. 9 entering November, posting a 5-0-1 record with a 1.48 goals-against average, a .940 save percentage and one shutout. The Florida Panthers product has made the most starts (six) of the NCAA's 18 undefeated goaltenders, while his 140 saves are the most among that group. A junior from Macomb, Mich., Bednard's top performances came on the road against ranked opponents. He posted 34 saves Oct. 9 at then-No. 18 Western Michigan, leading the Falcons to a 6-2 victory despite being outshot by a 36-19 margin. Bednard made 31 stops (on 33 shots) in an 8-2 road triumph at then-No. 4 Ohio State (Oct. 26). He also turned aside 23 shots in a 2-2 draw with the Buckeyes on Oct. 27, while posting a 15-save shutout in a 6-0 win vs. Robert Morris on Oct. 14. Bednard ranked 10th nationally for GAA and 15th for save percentage, but fourth and seventh, respectively, among those with four-or-more starts. This is his second career WCHA monthly award.
WCHA Goaltender of the Week: Atte Tolvanen, Northern Michigan (Minot Minotauros/Minnesota Magicians)
Tolvanen held the nation's top-ranked offensive team, which entered the series averaging over five goals a game, to just three on the weekend as Northern Michigan earned a WCHA road split at then-No. 9/10 Bowling Green. The senior from Vihti, Finland was outstanding Saturday night, blanking the Falcons 2-0 on 35 saves for his 10th career shutout – tied for the second-most in NMU program history. He also posted 24 stops in Friday's 3-1 loss, as the league's saves leader has at least 20 in each game this season. Among WCHA goaltenders with two starts last weekend, Tolvanen was tops with a .952 save percentage, third with a 1.51 goals-against average and second with 59 saves. This is Tolvanen's first WCHA weekly award of the 2018-19 season and his ninth career honor.