Tomahawks keep rolling with 3-2 road win in Jamestown
November 8, 2018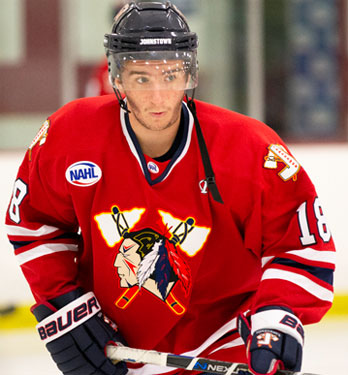 Johnstown 3 @ Jamestown 2 - The Johnstown Tomahawks used a three-goal second period to defeat the Jamestown Rebels for their eighth consecutive win Wednesday night at Northwest Arena.
The Rebels fired the game's first goal midway through the first period when Antonio Venuto completed a two-on-one for his second of the season. Noah Finstrom picked up the assists.
In the second period, Johnstown went to work.
he team tied the game at 1-1 just two minutes into the frame when Cameron Hebert slid the puck behind Rebels goalie Ryan Keane on the power play. For Hebert, the goal was his seventh of the season and was assisted by Carson Brière.
Brière got into the goal scoring action at the midway mark of the second period when an awkward bounce trickled to Mitch Hale, who fed Brière for his 12th goal of the season.
The Tomahawks increased their lead to 3-1 when Bemidji State-commit, Sam Solensky, beat Keane on a two-on-one for his 11th of the season unassisted.
Jamestown cut the Tomahawks lead to 3-2 38 seconds into the third period when Noah Finstrom potted his third of the season.
Tomahawks goalie Carter McPhail held the fort the rest of the period for his eighth win of the season, making 23 saves. Keane made 17 saves in the loss.