Minot head coach Murray nominated for yearly award
November 7, 2018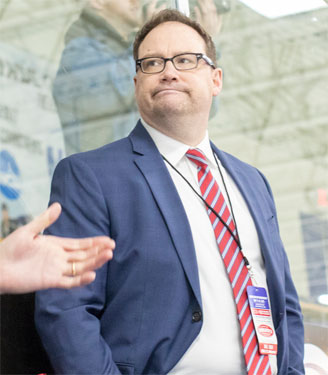 North American Hockey League (NAHL) and Minot Minotauros Head Coach Marty Murray has been selected as the second monthly nominee for the Darcy Haugan Memorial North American Coach of the Year award.
The annual award is presented to the current junior hockey coach that displays similar characteristics that Haugan was known for.
Haugan was an unusual junior hockey coach that emphasized helping his players become better people as being more important than wins and losses. He also expected his players to give back to the community. He strongly believed that hockey is not about making players, but human beings, and was a frequent attendee at fundraisers, minor hockey clinics, and spoke with community leaders and schools about family, integrity and respect. Nominees, that display similar characteristics, are selected each month during the season leading up to the May announcement.
Murray is in his seventh full season in the coaching ranks after a professional playing career that spanned 15 seasons. Over his seven seasons behind the Minot bench the Tauros are 195-143-32 with 39 players that have moved on to the NCAA Division I level of play. The Tauros have qualified for the playoffs in each of Murray's full seasons as head coach.
"Marty is a well-respected coach, by both his peers and players," Maryland Black Bears Coach Clint Mylymok said on Monday. "He does things the right way and with integrity and exemplifies many of the qualities that are reminiscent of Darcy."
Like the man this award is named for, Murray is a coach that places individual character above on-ice ability when evaluating each young man that wants to come into his program. He's also the type of coach that leaves a lasting impression on every player that spends time on his bench. It's those qualities that impresses us the most.
The winner will be selected at the end of regular season by a panel led by Darcy's wife Christina Haugan.
September Nominee - Kindersley Klippers Head Coach Clayton Jardine
JuniorHockey.com is honored to have the opportunity to facilitate this award on behalf of Darcy's family, friends, and the game.