NAHL announces Bauer Hockey Divisional Stars of the Week
November 5, 2018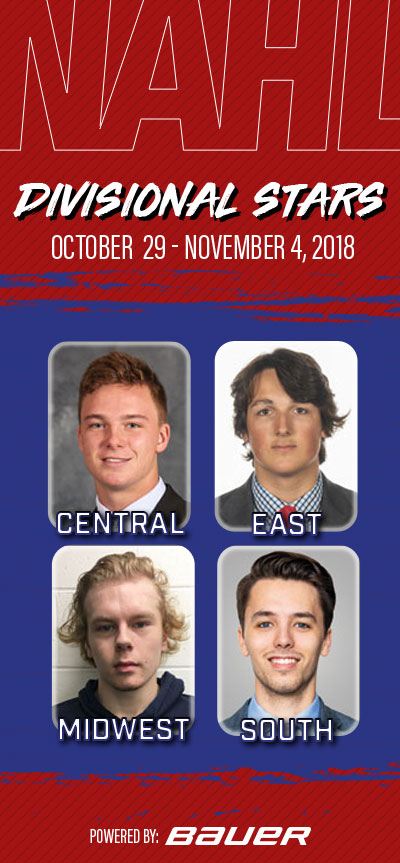 The North American Hockey League (NAHL) today announced the Divisional Stars of the Week presented by Bauer Hockey for the week ending November 4, 2018. The Divisional Stars of the Week is a weekly feature during the 2018-19 regular season that honors the top performing players in each of the four NAHL divisions. Only players that are nominated by their respective teams are considered for the Divisional Players of the Week award.
Watch: NAHL Stars of the Week video for October 29-November 4
Central Division Star of the Week: Stepan Pokorny, forward, Aberdeen Wings
The Aberdeen Wings cruised to a weekend home-and-home sweep of the Brookings Blizzard over the weekend, which kept the Wings with the NAHL's best record at 11-2-2 overall. Forward and NAPHL grad Stepan Pokorny, 18, had his best weekend of his young NAHL career as the 5'11/185 lbs. native of Kolin, Czech Republic, chimed in with four goals during the sweep to go along with a +5 rating. On Friday, Pokorny, who played in the NAPHL the past two seasons, had two goals, including the game-winner, in a 6-1 road win in Brookings. On Saturday, he had two more goals in a 5-2 home win over the Blizzard. For the season, Pokorny has nine points in 15 games played. "Stepan has been a player we have relied on to play in multitude of roles since the start of the season. He embraces the hard work it takes to play in the NAHL and this weekend was a byproduct of the work he has put in," said Wings head coach Scott Langer.
2nd Star: Ondrej Trejbal, D, Minnesota Wilderness
Honorable Mention (alphabetical): Jon Bendorf, F, Aberdeen Wings – Ethan Gauer, D, Bismarck Bobcats – Didrik Henbrandt, F, Minot Minotauros – Isaac Kobienia, F, Minnesota Wilderness – Tim Piechowski, F, Bismarck Bobcats – Wilmer Skoog, F, Minot Minotauros – Levi Stauber, F, Austin Bruins – Andy Willis, F, Austin Bruins
East Division Star of the Week: Carson Briere, forward, Johnstown Tomahawks
Johnstown Tomahawks veteran forward Carson Briere, 19, helped his club to two more wins this past weekend and run their current winning streak to seven straight games as they sit atop of the NAHL's East Division. The 5'8/175 lbs. native of Philadelphia, Pennsylvania, recorded five points (2 goals, 3 assists) in the two wins and was a +2. On Thursday, Briere had a pair of assists in a 5-1 road win in Wilkes-Barre/Scranton against the Knights. On Friday, Briere was a one-man show in the 3rd period as he scored twice, including the game-winner, and assisted on another as the Tomahawks came from behind to win 5-4. For the season, Briere is 2nd in the NAHL in scoring with 24 points in 18 games played. "It's great to see Carson recognized as Star of the Week. He came through big for us this weekend especially in crunch time, which is one of his biggest attributes in that he has the ability to perform when he needs to be clutch. He has emerged as a dynamic offensive player that continues to improve day in and day out because of his competitive drive. It has been fun to watch his overall game grow since he came to Johnstown, and we look forward to more to come from him," said Johnstown head coach Mike Letizia.
2nd Star: Zach Nazzarett, F, New Jersey Titans
Honorable Mention (alphabetical): Oliver Benwell, F, Johnstown Tomahawks – Eric Manoukian, D, New Jersey Titans – Matteo Menotti, F, Maryland Black Bears – David Tomeo, G, Maryland Black Bears
Midwest Division Star of the Week: Killian Kiecker-Olson, forward, Chippewa Steel
It was a big weekend for 17-year-old Killian Kiecker-Olson of the Chippewa Steel. The 6'0/190 lbs. native of Andover, Minnesota, and NAPHL grad, helped the Steel to a weekend split of their series with the Janesville Jets and in the process, snap a losing skid to get the team back on the right track. Kiecker-Olson had four points (2 goals, 2 assists) and was a +4 on the weekend. On Friday, he had an assist in a close 4-3 loss. On Saturday, Kiecker-Olson had two goals and an assist in a 6-0 win. For the season, Kiecker-Olsonis tied for 2nd in team scoring with 12 points in 19 games played. "Killian is a young player who has been thrust into a big role for us and has performed real well. He has a great ability to slow the game down and see the ice well and it has translated into offensive production for us. He is really starting to gain traction on playing in this league and I believe he will only get better as time goes on," said Steel head coach Al Rooney.
2nd Star: Parker Brown, F, Fairbanks Ice Dogs
Honorable Mention (alphabetical): Grant Reichenbacher, F, Chippewa Steel – John Stampohar, D, Fairbanks Ice Dogs
South Division Star of the Week: Seth Eisele, goaltender, Lone Star Brahmas
While Lone Star Brahmas goalie Seth Eisele, 20, played in just one game over the weekend, he made the most of it. The 6'5/180 lbs. native of Stillwater, Minnesota, posted his first career NAHL shutout as he stopped all 21 shots that came his way in a 2-0 win on Saturday in Topeka against the Pilots. The shutout included 11 saves in the 3rd period and secured a weekend split of the series for the Brahmas, who took three of four points. Eisele, who played a part of the 2016-17 season in the NA3HL with the North Iowa Bulls, has appeared in three games for the Brahmas this season, allowing just five goals. "I thought Seth was very solid in our win on Saturday. When we gave up good chances, he was there to respond. He has been patient in our time with and made the most of his opportunities when called upon. I've been very happy with his play this year and hope to see it continue," said Brahmas head coach Dan Wildfong.
2nd Star: Justin Evenson, G, Amarillo Bulls
Honorable Mention (alphabetical): Gueorgui Feduolov, F, Shreveport Mudbugs – Alex Peterson, F, Amarillo Bulls