November 2, 2018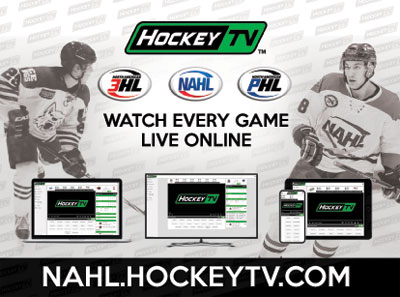 It's been another exciting week for the NAHL, which featured yet another NCAA commitment and several more alumni being recognized in the NHL and NCAA.
The NAHL now has 93 NCAA Division I commitments so far during the 2018-19 season.
In the Central Division, 1st place and 2nd place collide as the division-leading Austin Bruins are on the road to face the Minot Minotauros, who are tied with Aberdeen for 2nd place. The Wings look to add to their record of 7-0-2 in their last nine games as take on the Brookings Blizzard in a home-and-home series. The final series has the Bismarck Bobcats hosting the Minnesota Wilderness for a two-game set.
In the East Division, the division-leading Johnstown Tomahawks got their week off to a big start with a 5-1 win on Thursday in Wilkes-Barre/Scranton. They look to sweep the series win the final game on Friday night. The New Jersey Titans look to continue their winning streak as they take to the road on Saturday and Sunday to face the Northeast Generals. The final series features the Maryland Black Bears looking to snap their small losing skid as they host the Jamestown Rebels.
In the Midwest, both Alaska teams return back to the state for some big series. The Ice Dogs return to home ice on a 6-0-1 run in their last seven games as they host the division-leading Minnesota Magicians. Meanwhile, the Kenai River Brown Bears look to maintain their playoff positioning with a series against Springfield, as the Jr. Blues try and snap a four-game slide. The battle of Wisconsin continues in the final series this weekend as Janesville travels to Chippewa Falls to take on the Steel. The Steel are looking to snap a 12-game losing streak.
In the South Division, the jockeying at the top of the standings continues as the 1st place Amarillo Bulls host the 3rd place Shreveport Mudbugs for two games with the teams separated by four points in the standings. In other series in the South has the Lone Star Brahmas on the road in Topeka to face in the Pilots in two games. Both Corpus Christi and Odessa are idle.
FRI, NOVEMBER 2
Johnstown at Wilkes-Barre/Scranton - 7:00 PM EDT
Jamestown at Maryland - 7:45 PM EDT
Shreveport at Amarillo - 7:05 PM CDT
Aberdeen at Brookings - 7:05 PM CDT
Lone Star at Topeka - 7:05 PM CDT
Janesville at Chippewa - 7:10 PM CDT
MN Wilderness at Bismarck - 7:15 PM CDT
Austin at Minot - 7:35 PM CDT
MN Magicians at Fairbanks - 7:30 PM AKDT
Springfield at Kenai River - 7:30 PM AKDT
SAT, NOVEMBER 3
New Jersey at Northeast - 7:00 PM EDT
Jamestown at Maryland - 7:45 PM EDT
Lone Star at Topeka - 7:05 PM CDT
Janesville at Chippewa - 7:10 PM CDT
Brookings at Aberdeen - 7:15 PM CDT
Shreveport at Amarillo - 7:15 PM CDT
MN Wilderness at Bismarck - 7:15 PM CDT
Austin at Minot - 7:35 PM CDT
MN Magicians at Fairbanks - 7:30 PM AKDT
Springfield at Kenai River - 7:30 PM AKDT
SUN, NOVEMBER 4
New Jersey at Northeast - 1:30 PM EST