Friday Finals: Ice Dogs roll to 6th straight win
October 27, 2018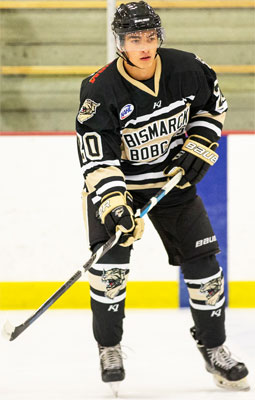 Fairbanks 5 @ Topeka 1 - Jonathan Sorenson's two goals propelled the Fairbanks Ice Dogs to their sixth straight victory as they defeated Topeka 5-1. Matt Koethe, Dylan Abbott and Luke Ciolli picked up goals for the Ice Dogs while Nate Reid only had to make 12 stops for the win. Dallas Tulik continued to stay hot as he scored the only Pilots goal. Emil Gransoe turned aside 26 shots for Topeka.
Aberdeen 4 @ Bismarck 5 (SO) - Sam Malinski was the hero in Bismarck as he scored twice in the dying minutes to force overtime and then delivered the knockout blow in the shootout to give the Bobcats the 5-4 win over Aberdeen. Bartek Bison and Alex Pollock both scored for Bismarck in regulation. Fresh off his commitment announcement, John Roberts was solid between the pipes, he made 38 saves. Brad Belisle scored a goal and an assist. Pierson Brandon, John Sladic and Adam Pitters also lit the lamp for the Wings. Matt Vernon was given the loss as he made 41 saves.
Wilkes-Barre/Scranton 1 @ Jamestown 4 - Four different Rebels found the back of the net as Jamestown picked up a 4-1 victory over the Wilkes-Barre/Scranton Knights. Nick Stuckless, Yuri Davis-Martel, Auggie Moore and Colin Schmidt all netted goals in the win. Ryan Keane earned the win in goal as he made 19 saves on 20 shots. Sacha Guillemain had the only goal for the Knights. Zach Stejskal took the loss as he made 18 saves.
Maryland 2 @ New Jersey 4 - A goal and an assist from Ryan Naumovski led the New Jersey offense in their 4-2 win over Maryland. Josef Glamos picked up the game winning goal while Chris Garbe and Kyle Jeffers also scored for the Titans. Matt Ladd was spectacular in net as he made 42 saves to pick up his seventh win of the season. Karim Del Ponte and Luke Posner provided the offense for the Black Bears. David Tomeo was stuck with the loss as he made 31 saves.
Minot 7 @ Brookings 2 - The floodgates opened in the third period for the Minot Minotauros as they rolled to a 7-2 win over the Brookings Blizzard. Nick Strom and Andrew Kangas each had a goal and an assist while Joseph Harguindeguy, Keenan Lund, David Raisanen, Fritz Belisle and Justin Kelly all scored for Minot. Nicholas Grabko stopped 26 shots en route to earning the win. Gabe Wahl and Shane Hathaway picked up goals for Brookings. George McBey stopped 21 shots in the loss before being pulled midway through the 3rd period in favor of McLean Dorr, who made 4 saves on 5 shots..
Kenai River 1 @ Corpus Christi 3 - Blake Bennett and Kyle Moore had a goal and an assist in Corpus Christi's 3-1 decision over Kenai River. Jake Stella also found the back of the net for the IceRays while Akira Schmid picked up his first NAHL win by making 18 saves. Markuss Komuls scored the lone goal for Kenai River. Gavin Enright was magnificent as he made 43 stops in a losing effort.
Janesville 3 @ MN Wilderness 0 - Cole Brady stood on his head for the Janesville Jets as he denied all 37 shots the Minnesota Wilderness took as the Jets won Friday's contest 3-0. Tommy Middleton potted a pair of goals and Erik Palmqvist scored as well. Logan Ommen tallied two helpers for Janesville. Kaleb Johnson was the tough luck loser as he made 23 saves for the Wilderness.
MN Magicians 5 @ Springfield 1 - Chris Konin's three points (two goals and one assist) led the Magicians offense as they topped the Springfield Jr. Blues 5-1. Valentino Passarelli, Cameron Buhl and Andrew Kruse all scored for Minnesota. Carter Breitenfeldt had three assists while Ethan Haider was nearly perfect, making 19 saves. Nick Techel had the only tally for the Jr. Blues. Jack Williams made 25 stops in the loss.
Austin 5 @ Chippewa 4 - A late goal from Josef Mysak lifted the Bruins to a 5-4 victory over the Chippewa Steel. Valdemar Ahlberg, Hugh Larkin, Lane Krenzen, and Levi Stauber all contributed goals as well for Austin. Kyle McClellan grabbed the win in the crease for the Bruins as he made 33 saves. Tomas Vochozka was unstoppable as he netted a hat trick and added an assist. Austin Mikesch scored once and had two assists while Dylan Moulton had three helpers of his own. Josh Langford was given the loss despite making 45 saves.
Shreveport 1 @ Odessa 2 - An early second period goal by Zach Heintz proved to be enough for the Odessa Jackalopes as they won their home opener 2-1 over the Shreveport Mudbugs. Carl Skarstrom had the other Odessa tally. Kade Phipps made 27 saves for Odessa in his first game as a Jackalope. Ethan Harrison scored for Shreveport and Leo Chuard stopped 30 shots.
Amarillo 1 @ Lone Star 2 (OT) - Michal Stinil caught a beautiful cross ice feed from Sam Brennan and buried the game winning goal for the Lone Star Brahmas. It was his sixth of the season. Frank Trazzera had the only goal for the home squad during the first 60 minutes before Stinil's tally. In his first start for Lone Star, Seth Eisele made 21 saves to earn his first NAHL win. Trey Bagwell had the only goal for Amarillo. Jason Grande made 14 saves for the Bulls.