3rd period comeback leads Bruins to win over Wilderness
October 24, 2018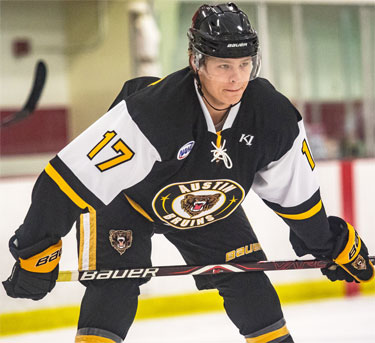 MN Wilderness 1 @ Austin 3 - The Austin Bruins got three goals in the 3rd period, including a late game-winner off the stick of Valdemar Ahlberg to take down the Minnesota Wilderness, 3-1 in the lone NAHL game on Wednesday.
It was the annual Healthy Habits game at Riverside Arena with a special 11am puck drop in front of thousands of screaming, energetic school-kids from all over Mower County and beyond. Unlike the raucous in the stands, the game on the ice took some time to heat up as neither team was able to score in the first 20 minutes of play.
In the second period, it was the Wilderness who struck first on the power-play taking the 1-0 lead. The power-play goal was only the fourth of the season surrendered the Bruins, the top-ranked unit in all of the NAHL.
It wasn't until the third period where the Bruins evened the game, doing so with a power-play goal of their own. Levi Stauber tallied his third goal of the year when he rifled a wrist shot past Wilderness netminder Ryan Fanti to even the game at 1-1. The goal itself was a huge momentum swing for Austin, not only did it tie the game but it was also against the second-best penalty-killing unit in the NAHL. That same Wilderness PK unit would take a couple more hits in the game as well. With 2:08 left to go on the game clock, the Bruins took the lead when Jen Pietila's wrist-shot from the point was ramped off the stick of Valdemar Ahlberg and up over the shoulder of goalie Fanti. The goal, Ahlberg's second goal in as many games, erupted the crowd of school kids at Riverside Arena and the black-and-gold continued their strong play, icing the game with only 11 seconds left on the clock when Dante Zapata powered a shot to the back of the net.
Austin goalie Brett Miller made 24 saves in the win, while Wilderness goalie Ryan Fanti made 23 saves in the loss. The win helps the Bruins improve to 8-1-0-3 on the season and pulls them into firm possession of first place in the Central Division. The Wilderness falls to 5-6-0-1 with the loss.