October 19, 2018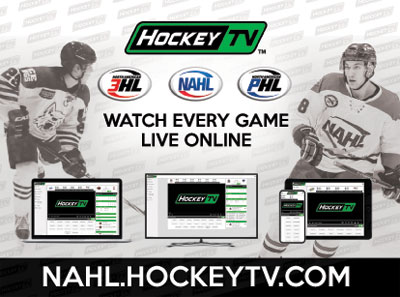 Fresh off another incredible week of NCAA commitments and alumni thriving at the next levels of hockey, the NAHL gets back into action this weekend with a totally full slate of 12 games on Friday and 12 games on Saturday this weekend. A total of 90 players have made NCAA commitments so far during the 2018-19 season.
In the Central Division this weekend, 1st place is on the line as the Minot Minotauros and Bismarck Bobcats clash in a home-and-home series. Bismarck is coming off a bye week, while Minot comes into the weekend with a 7-3-0 record and tied for 1st place. Also in 1st place is the Austin Bruins, who boast the NAHL's best record at 6-1-2. The Bruins step outside of the division and play a home-and-home series with the Minnesota Magicians. The Aberdeen Wings are just one point out of 1st place and will be on the road this weekend in an out-of-division series in Chippewa Falls against the Steel. Two teams needing points to climb the standings, the Minnesota Wilderness and Brookings Blizzard meet for two games in a weekend series in Brookings.
In the East, the hottest team in the division, the New Jersey Titans, put their three-game winning streak on the line as they host the Northeast Generals. The 1st place Johnstown Tomahawks will take to the road to face the Wilkes-Barre/Scranton Knights, and the final series has the Jamestown Rebels on the road in Maryland trying to snap a three-game slide as they face the Black Bears.
In the Midwest, there is just one series within the division as the red-hot Janesville Jets are at home to face the Springfield Jr. Blues. Thanks to a 3-2 shootout win on Thursday night, the Minnesota Magicians have climbed into 1st place with a four-game winning streak and face the Austin Bruins in a home-and-home series. 2nd place teams collide in Topeka as the Pilots host the Kenai River Brown Bears in an out-of-division series. The Fairbanks Ice Dogs put their three-game winning streak on the line with two tough games in Corpus Christi this weekend. The Chippewa Steel look to snap their 8-game losing streak with a home series against Aberdeen.
In the South, it will be a rematch of last weekend as the Bulls and Bugs do battle, but this time it's in Amarillo, with the Bulls still holding on to a one-point lead in the South. The Odessa Jackalopes are back after a few weeks off as they take to the road to face the Lone Star Brahmas. Meanwhile, Topeka looks to close in on 1st place in the South with a series against Kenai River and after a few mid-week trades, the IceRays play host to Fairbanks. The two teams are separated by over 4,000 miles.
FRI, OCTOBER 19
Johnstown at Wilkes-Barre/Scranton - 7:00 PM EDT
Jamestown at Maryland - 7:45 PM EDT
Northeast at New Jersey - 7:45 PM EDT
Shreveport at Amarillo - 7:05 PM CDT
MN Magicians at Austin - 7:05 PM CDT
MN Wilderness at Brookings - 7:05 PM CDT
Fairbanks at Corpus Christi - 7:05 PM CDT
Springfield at Janesville - 7:05 PM CDT
Kenai River at Topeka - 7:05 PM CDT
Aberdeen at Chippewa - 7:10 PM CDT
Minot at Bismarck - 7:15 PM CDT
Odessa at Lone Star - 7:30 PM CDT
SAT, OCTOBER 20
Johnstown at Wilkes-Barre/Scranton - 3:30 PM EDT
Northeast at New Jersey - 7:15 PM EDT
Jamestown at Maryland - 7:45 PM EDT
Austin at MN Magicians - 7:00 PM CDT
Shreveport at Amarillo - 7:05 PM CDT
MN Wilderness at Brookings - 7:05 PM CDT
Fairbanks at Corpus Christi - 7:05 PM CDT
Springfield at Janesville - 7:05 PM CDT
Kenai River at Topeka - 7:05 PM CDT
Aberdeen at Chippewa - 7:10 PM CDT
Odessa at Lone Star - 7:30 PM CDT
Bismarck at Minot - 7:35 PM CDT