Topeka defenseman Finner makes NCAA DI commitment
October 16, 2018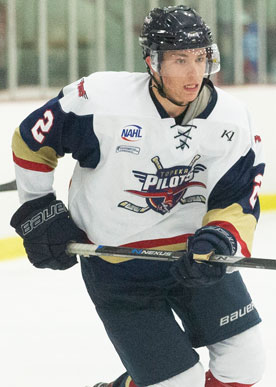 The Topeka Pilots of the North American Hockey League (NAHL) are pleased to announce that defenseman Max Finner has committed to play NCAA Division I hockey for Ferris State University in the WCHA.
Finner, a 5'10/160 lbs. native of Elmhurst, Illinois, is reaping the rewards of a strong start to his season. He's building on his already stout defensive play and coupling it with some offensive prowess. He has scored two goals and has eight assists through 11 games in 2018-19.
Finner, 19, also played in 57 games last season for the Topeka RoadRunners, scoring five goals and tallying 13 assists.
He will join his brother Lucas Finner, a current sophomore forward for Ferris State, as well as Pilots forward Dallas Tulik, who also announced his commitment to the Bulldogs last week.
This level of comfort with the team's formulas and systems, as well as having several friends on the team, will play an integral role in his transition.
"It's been a goal of mine for a few years now to commit to Ferris State, because my brother (Lucas) plays there currently," Finner said. "He provided me the insight I needed, so I could see that Ferris would be a good fit for me. I'm really excited about the opportunity to play for a school I know so much about."
Pilots head coach Simon Watson indicated Finner has been a staple along the Topeka blueline this season and has earned his opportunity to continue his game at the collegiate level.
"He plays a fast-paced game at both ends of the ice," Watson said. "He had a fantastic showcase and strong start to the season. He played exceptional and it's garnered a lot of attention, as it should."
With the commitment coming early in the season, it will give Finner more time to hone his skills and his game, as he prepares for the transition to a much faster-paced collegiate level.
"It'll be a step up for Max and for Dallas (Tulik), and we'll prepare them as much as we can as a staff for that transition," Watson said. "Max has shown he's a Division I hockey player, so we're excited to see what he can do."
With so much of the season still to play in the NAHL, Finner's work is not done at the junior level, as he and his team continue their hopeful push for a playoff berth in the spring.
"I play to keep contributing as much as possible to allow our team to win," Finner said. "We want to keep the momentum going and lead into playoffs."