Wilderness goalie Johnson makes NCAA DI commitment
October 16, 2018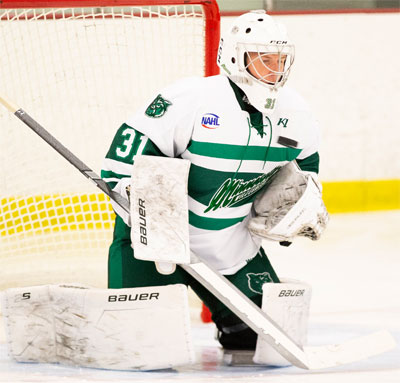 The Minnesota Wilderness, proud members of the North American Hockey League (NAHL), are pleased to announce that goaltender Kaleb Johnson has committed to play NCAA Division I hockey for the University of North Dakota of the National Collegiate Hockey Conference (NCHC). The North Dakota Native plans to attend UND in the 2020-21 season.
Johnson, 17, is off to a terrific start in the NAHL so far during the 2018-19 season, going 3-1 with a .933 save percentage and a 2.00 goals-against average in his first four starts. That included a 34-of-35 save performance at the NAHL Showcase in Blaine with hundreds of scouts on hand.
The 6'1/180 lbs. native of Grand Forks, North Dakota, helped the Grand Forks Central Knights claim two state championship titles while in high school. Since then, Johnson has only improved his game and gained even more game experience in the NAHL.
"We are extremely proud of Kaleb and happy for him to have reached his goal of playing for his dream school at North Dakota. Kaleb is great, young goaltender and has a terrific work ethic; he deserves everything that comes his way. The Wilderness program is honored to have one of our players committing to such a great university and fantastic hockey program," said Wilderness Head Coach Dave Boitz.
"It's my hometown. I've been watching them since I was about 6 years old. Their culture and tradition is great. I really look forward to becoming a part of that culture and tradition and keeping it moving forward," said Johnson. "North Dakota got me into an official visit quick and I couldn't pass on their offer. It was too good."
Johnson said he's not 100 percent sure when he'll come to UND, but he'll definitely play one more year of junior hockey.
"When I'm ready, I'll come in," he said. "I'm definitely not going to rush it. I'm going to take my time and when I think I'm ready, I'm going to come."