October 12, 2018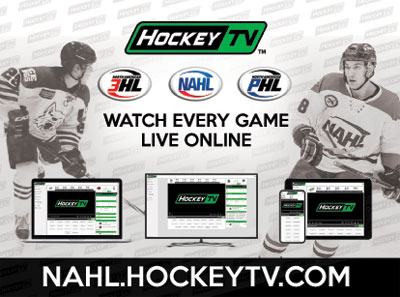 A nice and tidy schedule of 20 NAHL games are on the slate this weekend as team's continue their march towards the end of October and the quarter point of the season.
It was a big week for the NAHL, as five more players have announced their NCAA Division I commitment plans in the past seven days. A total of 84 players have made NCAA commitments so far during the 2018-19 season.
In the Central Division this weekend, eyes will be on Aberdeen, South Dakota, as the Wings play host to the Minot Minotauros. Minot holds a two-point lead atop of the division with the Wings just two points behind. Aberdeen comes into the contest riding a three-game winning streak. In the middle of those two teams in 2nd place is the Austin Bruins, who play twice this weekend as they host Brookings on Friday and travel to the Wilderness on Saturday. The Blizzard will be looking to snap a six-game losing streak. The Bismarck Bobcats are idle.
In the East Division, the division-leading Johnstown Tomahawks take to the road to face the Maryland Black Bears in a two-game series. The Jamestown Rebels play their first home game of the season this weekend as they open their home slate against the New Jersey Titans. The final series has the Northeast Generals in Wilkes-Barre/Scranton to take on the Knights in two more games after the Knights won the opening game of the three-game series with a 4-1 win on Thursday.
In the Midwest Division, the division-leading Kenai River Brown Bears are fresh off a weekend home sweep and look to continue the momentum as they host the Janesville Jets. The Brown Bears swept the Jets in their series opening series back in Janesville in mid-September. The Springfield Jr. Blues will travel North to Minnesota to take on the Magicians in a two-game series with the two clubs separated by just a point. The final series has the Chippewa Steel in Fairbanks to take on the Ice Dogs with both teams needing some wins to get back on track and start climbing the standings.
In the South Division, the HockeyTV Game of the Week features the NAHL and South Division-leading Amarillo Bulls taking to the road with their 7-1-0 record to face the defending champion Shreveport Mudbugs in a two-game series on Friday and Saturday. The other series has the Lone Star Brahmas in Corpus Christi to take on the IceRays with both team's needing wins to try and get back into playoff position. Both Topeka and Odessa are idle.
FRI, OCTOBER 12
Northeast at Wilkes-Barre/Scranton - 7:00 PM EDT
New Jersey at Jamestown - 7:05 PM EDT
Johnstown at Maryland - 7:45 PM EDT
Austin at Brookings - 7:05 PM CDT
Lone Star at Corpus Christi - 7:05 PM CDT
Amarillo at Shreveport - 7:11 PM CDT
Minot at Aberdeen - 7:15 PM CDT
Springfield at MN Magicians - 7:15 PM CDT
Chippewa at Fairbanks - 7:30 PM AKDT
Janesville at Kenai River - 7:30 PM AKDT
SAT, OCTOBER 13
Northeast at Wilkes-Barre/Scranton - 3:30 PM EDT
New Jersey at Jamestown - 7:05 PM EDT
Johnstown at Maryland - 7:45 PM EDT
Springfield at MN Magicians - 7:00 PM CDT
Lone Star at Corpus Christi - 7:05 PM CDT
Amarillo at Shreveport - 7:11 PM CDT
Minot at Aberdeen - 7:15 PM CDT
Austin at MN Wilderness - 7:35 PM CDT
Chippewa at Fairbanks - 7:30 PM AKDT
Janesville at Kenai River - 7:30 PM AKDT