Generals salvage split with 4-2 win on Sunday
October 8, 2018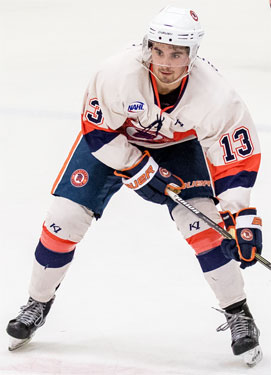 Maryland 2 @ Northeast 4 - The Northeast Generals turned the tables on the visiting Maryland Black in the lone NAHL game on Sunday to earn a 4-2 win and weekend split of their series.
Things got started early for the Generals as Louis Boudon, who had three goals on the weekend, got the scoring started midway through the 1st period with a shorthanded goal as he raced in on a breakaway and beat an outstretched Maryland goalie David Tomeo. The Generals increased the lead to 2-0 thanks to a power play goal from Matt Rutigliano, who mopped up a rebound to make it 2-0 after one period.
Rutigliano would add to his goal total in the 2nd period as he picked off a clearing attempt in the high slot and raced in alone on Tomeo and slipped a backhand past for a 3-0 lead. With time winding down in the 2nd period, the Generals found the back of the net for a fourth time as Alex Cohen's shot from the right hash marks slipped through Tomeo's legs for a 4-0 lead and ending the night for Tomeo.
Maryland made a comeback attempt in the 3rd period, which included goals from Marek Wazny and Joe Mancuso, but that would be all they would get as Northeast Generals goalie David Fessenden made 34 saves in the win. Tomeo made 31 saves in the loss and Tyler Matthews came in to stop all four shots he saw in relief.