October 5, 2018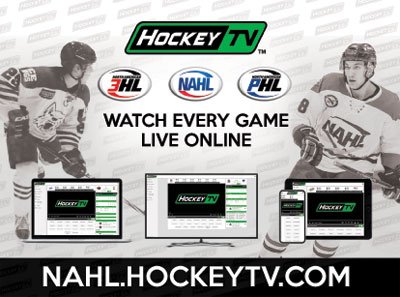 The first full weekend of October gets underway this weekend in the NAHL as 19 games are on the schedule.
The NAHL is coming off a memorable week, which not only saw three NCAA Division I commitments, but also saw 15 players with NAHL ties named to the NHL Central Scouting player watch list for the NHL Draft. In addition, 53 NAHL alumni were named to opening night rosters in the NHL.
In the Central Division this weekend, all eyes are on North Dakota as the Subway series resumes between state rivals Minot and Bismarck in a home-and-home match-up. Minot has won five straight games and sits in 1st place in the Central with a 5-1-0 record, which Bismarck split in Austin last weekend and sits two points back at 4-2-0. The Brookings Blizzard are on the road twice as they play in Aberdeen on Friday and Austin on Saturday. The Blizzard looking to snap a four-game losing streak as they have been outscored 18-3 in that time span. The Minnesota Wilderness look to snap a small losing streak of their own as they go outside of the division to face the Minnesota Magicians in a home-and home series.
In the East, it is a full slate of games, which includes the home opener for the 1st place Johnstown Tomahawks, who will be looking to improve on their 6-2-0 start with a series against the Jamestown Rebels. The Wilkes-Barre/Scranton Knights look to continue their winning ways with a home-and-home series against the New Jersey Titans. The final series has the Maryland Black Bears traveling to New England to face the Northeast Generals.
In the Midwest Division, it is a rematch of the Division Finals series from last year in the NAHL/HockeyTV Game of the Week as they Janesville Jets travel to Alaska to take on the Fairbanks Ice Dogs in their 2018-19 home opener at 'The Dip.' The 1st place Kenai River Brown Bears, who fashioned together a 5-3-0 record away from home in their first eight games, host the Chippewa Steel in a two-game set. In out of division action, the Springfield Jr. Blues host the Topeka Pilots from the South Division and the Minnesota Magicians take on the Wilderness from the Central.
The South Division has a light schedule this week, with a lone divisional game on Saturday as Lone Star travels to Amarillo. Topeka is in Springfield, while Shreveport, Corpus Christi, and Odessa are idle.
FRI, OCTOBER 5
New Jersey at Wilkes-Barre/Scranton - 7:00 PM EDT
Jamestown at Johnstown - 7:30 PM EDT
MN Magicians at MN Wilderness - 7:05 PM CDT
Topeka at Springfield - 7:05 PM CDT
Brookings at Aberdeen - 7:15 PM CDT
Minot at Bismarck - 7:15 PM CDT
Janesville at Fairbanks - 7:30 PM AKDT
Chippewa at Kenai River - 7:30 PM AKDT
SAT, OCTOBER 6
Jamestown at Johnstown - 7:00 PM EDT
Wilkes-Barre/Scranton at New Jersey - 7:00 PM EDT
Maryland at Northeast - 7:00 PM EDT
Topeka at Springfield - 6:05 PM CDT
MN Wilderness at MN Magicians - 7:00 PM CDT
Lone Star at Amarillo - 7:05 PM CDT
Brookings at Austin - 7:05 PM CDT
Bismarck at Minot - 7:35 PM CDT
Janesville at Fairbanks - 7:30 PM AKDT
Chippewa at Kenai River - 7:30 PM AKDT
SUN, OCTOBER 7
Maryland at Northeast - 6:30 PM EDT