Fairbanks defenseman Stampohar makes NCAA DI commitment
October 2, 2018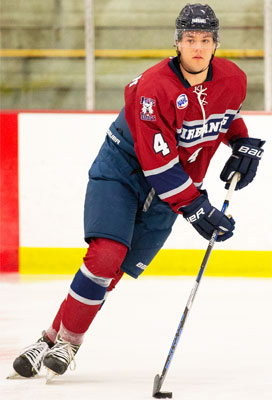 By Brad Joyal, News-Miner
The Fairbanks Ice Dogs of the North American Hockey League (NAHL) are pleased to announce that defenseman John Stampohar became the team's first player in 2018-19 to commit to play NCAA Division I college hockey.
Stampohar, a 6'2/210 lbs. blueliner from Grand Rapids, Minnesota, decided he'll continue his career next year at Canisius College, which is located in Buffalo, New York, and competes in the Atlantic Hockey Conference.
"I'm really happy for John," Fairbanks head coach Trevor Stewart said. "He was with us last year and decided to come back for his 20-year-old season. He put himself in a good position, had a couple good first few weeks, and Canisius really liked him and flew him out for a visit after the NAHL Showcase."
Stampohar caught the attention of the Golden Griffins coaching staff after the NAHL Showcase, which took place Sept. 19-22 at Schwan Super Rink in Blaine, Minnesota.
Although the Ice Dogs didn't experience much success at the showcase — they went 1-2-0-1 during their four games in Blaine — Stampohar recorded two of his four assists and made an impression on Canisius' coaches.
Stewart said he thinks the AHC program will be a good fit for the Ice Dogs veteran.
"They got a new rink a couple years ago, so it's really an up-and-coming program," he said. "I think they're going to continue to be in the upward movement of college hockey. They've got the facilities and resources, and now they're getting a good player in Stampohar."
Stewart also said the news will make life easier for the defenseman. While the majority of players compete in the North American Hockey League have hopes of catching the attention of college coaches, Stewart said Stampohar has one less thing to worry about as he navigates through his final season in Fairbanks.
"I think there's just closure and he's awarded an opportunity to play with more confidence," the coach said. "He doesn't have to worry about certain things now, so hopefully he just focuses on becoming a better hockey player throughout the season and doing everything he can to be at his best by the time he gets to Canisius."