September 28, 2018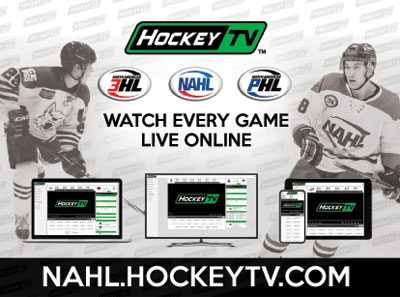 After another successful NAHL Showcase, which saw all 24 teams play in regular season games in Blaine, Minnesota, the action gets back to normal this weekend in the NAHL as the month of September comes to a close.
This weekend features a full slate of 24 games as all teams are in action.
In the Central Division, the early leaders in the top of the standings, the Bismarck Bobcats and Austin Bruins square off in the NAHL/HockeyTV Game of the Week on Friday and into Saturday in Austin. The Minot Minotauros are fresh off a 3-1 record at the Showcase and take the show on the road for two games in Brookings. The final series has the Minnesota Wilderness hosting their home-opening series against the Aberdeen Wings.
In the East Division, there is a nice and balanced schedule thanks to the addition of the sixth team in the East, the Maryland Black Bears. The Black Bears are off to a 2-2-2 start, which included a 2-1-1 record at the Showcase. They will be on the road this weekend in Wilkes-Barre/Scranton as the Knights are still looking for their first win. The early leaders in the division, the Johnstown Tomahawks and New Jersey Titans, who both have 4-2-0 records, will square off in a two-game series in New Jersey. In the final series, the Northeast Generals host the Jamestown Rebels, with both teams sporting .500 records early in the season.
In the Midwest Division, the Kenai River Brown Bears sit atop the standings with a 4-2-0 record and they will travel to Springfield for a two-game set with the 2-2-0 Jr. Blues. The new battle for the milk can takes place this weekend in Wisconsin as the Chippewa Steel travel to Janesville to face the Jets. The final series has the red-hot Magicians, who went 3-1-0 at the Showcase, hosting the Fairbanks Ice Dogs, who have just one win in their first six games.
In the South Division, all eyes are on Amarillo this weekend as the two teams who went 4-0 at the Showcase, the Topeka Pilots and Amarillo Bulls, face-off in a series. The Corpus Christi IceRays begin a long home stand by hosting the Shreveport Mudbugs this weekend and the final series has the Lone Star Brahmas hosting the Odessa Jackalopes.
FRI, SEPTEMBER 28
Maryland at Wilkes-Barre/Scranton - 7:00 PM EDT
Johnstown at New Jersey - 7:45 PM EDT
Topeka at Amarillo - 7:05 PM CDT
Bismarck at Austin - 7:05 PM CDT
Minot at Brookings - 7:05 PM CDT
Shreveport at Corpus Christi - 7:05 PM CDT
Chippewa at Janesville - 7:05 PM CDT
Aberdeen at MN Wilderness - 7:05 PM CDT
Kenai River at Springfield - 7:05 PM CDT
Fairbanks at MN Magicians - 7:15 PM CDT
Odessa at Lone Star - 7:30 PM CDT
SAT, SEPTEMBER 29
Maryland at Wilkes-Barre/Scranton - 3:30 PM EDT
Johnstown at New Jersey - 7:00 PM EDT
Jamestown at Northeast - 7:00 PM EDT
Kenai River at Springfield - 6:05 PM CDT
Fairbanks at MN Magicians - 7:00 PM CDT
Topeka at Amarillo - 7:05 PM CDT
Bismarck at Austin - 7:05 PM CDT
Minot at Brookings - 7:05 PM CDT
Shreveport at Corpus Christi - 7:05 PM CDT
Janesville at Chippewa - 7:10 PM CDT
Odessa at Lone Star - 7:30 PM CDT
Aberdeen at MN Wilderness - 7:35 PM CDT
SUN, SEPTEMBER 30
Jamestown at Northeast - 2:30 PM EDT