Saturday Scores: Tomahawks, Titans, Steel, Brown Bears, Mudbugs all sweep
September 16, 2018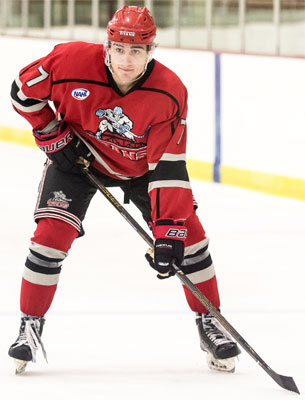 Johnstown 5 @ Wilkes-Barre/Scranton 1
- Three points each from Carson Briere and Samuel Solensky propelled the Johnstown Tomahawks to a weekend sweep of the Wilkes-Barre/Scranton Knights. Oliver Benwell had a goal and an assist while Christian Gorscak had a goal. Cooper Lukenda made 21 saves to pick up his first win of the season. Jacob Badal scored the only goal for the Knights and Samuel Vyletelka made 42 saves.
Boxscore
New Jersey 1 @ Maryland 0 (OT)
- Spencer Stanley had the game winning and only goal of the game as the Titans finished off a sweep of the Black Bears. Ryan Naumovski and Cam Gendron picked up the assists on the game winner. Matt Ladd was perfect in goal as he denied all 25 shots thrown his way. Tyler Matthews was superb as well as he allowed one goal on 25 shots.
Boxscore
Kenai River 7 @ Janesville 3
- The Kenai River Brown Bears will head to the NAHL Showcase riding a two game winning streak as they topped Janesville 7-3. Andy Walker scored a pair of goals in the contest while Makes Komuls and JJ Boucher each had three assists. Johan Bok, Porter Schachle, Sutton McDonald, Michael Spethmann and Jack Conroy all scored for Kenai River. Dennis Westergard made 23 saves to pick up the win. The bulk of the Janesville offense came from Erik Bargholtz as he scored twice and added an assist. Andrew Hicks had a goal and an assist in the loss. Garrett Nieto made 28 saves for Janesville.
Boxscore
Fairbanks 2 @ Chippewa 3
- Three goals in the second period lifted the Chippewa Steel to their second consecutive victory over Fairbanks. Connor Szmul, Jacob Dirks and Tomas Vochoza all scored for Chippewa in the win. Josh Langford made 24 saves and added an assist. Luke Ciolli scored once and had an assist for Fairbanks, Grant Ledford also scored for the Ice Dogs. Riley Sims made 19 saves in the loss.
Boxscore
Corpus Christi 1 @ Shreveport 4
- On the night they raised their 2018 Robertson Cup Championship banner, the Shreveport Mudbugs kept the party going as they took down Corpus Christi by a score of 4-1. Andrew Jackson, Jack Johnson, Jay Feiwell and Ethan Harrison scored for the Mudbugs. Leo Chaurd denied 30 shots to pick up his second win of the year. Blake Bennett scored the only goal for the IceRays and Florian Mnich made 40 saves.
Boxscore
Lone Star 4 @ Amarillo 2
- The Lone Star Brahmas scored three power play goals en route to a 4-2 win over the Amarillo Bulls. Michal Stinil scored a goals and had two helpers. Matt Guerra lit the lamp twice and Ben Pirko chipped in a goal as well. Harrison Feeney got the win in goal as he turned aside 27 shots. Jason Brancheau and Brett Abdelnour each had a goal and an assist for the Bulls. Jason Grande made 10 saves while Ryan Winter stopped nine.
Boxscore