September 14, 2018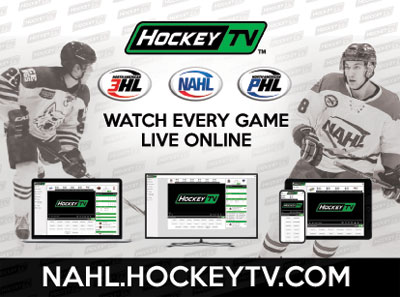 The North American Hockey League (NAHL) begins its 44th season this weekend as teams take to the ice for their first regular season games of the 2018-19 campaign.
The league is just days away from the 16th annual NAHL Showcase, which will take place from September 19-22, 2018, at the Super Rink in Blaine, MN. All 24 NAHL teams will play regular season games at the event.
The NAHL and its 24 member clubs enter the season riding a wave of momentum. This past season, the league once again set a new NCAA commitment record, this time finishing with 331 total NCAA commitments during the 2017-18 season. That also includes a new record total of 229 NCAA Division I commitments this past season.
The Central Division has the weekend off and won't get started until the Showcase.
The East Division gets underway this weekend and the highlight is the debut of the newest team in the division, the Maryland Black Bears. The Black Bears will play host to the New Jersey Titans. The other East series has the East Division playoff champions from a season ago, the Wilkes-Barre/Scranton Knights playing host to the Johnstown Tomahawks.
The Midwest Division also sees the debut of a new team, the Chippewa Steel. The Steel will be put to the test right off the bat as they host the Fairbanks Ice Dogs, who won the Midwest Division last season and had the best record in the NAHL in 2017-18. The other series in the Midwest has the Janesville Jets hosting the Kenai River Brown Bears.
The South Division has a full slate this weekend. Odessa and Topeka continue their three-game series on Friday and Sunday. The Pilots won a wild debut game on Thursday night, 7-6 in a shootout. The defending Champion Shreveport Mudbugs conclude their two-game set against the Corpus Christi IceRays on Saturday as they will raise their Robertson Cup National Championship banner to the rafters. The Lone Star Brahmas and Amarillo Bulls get both their seasons going with a lone game in Amarillo on Saturday night.
FRI, SEPTEMBER 14
Johnstown at Wilkes-Barre/Scranton - 4:30 PM EDT
New Jersey at Maryland - 7:45 PM EDT
Kenai River at Janesville - 7:05 PM CDT
Odessa at Topeka - 7:05 PM CDT
Fairbanks at Chippewa - 7:10 PM CDT
SAT, SEPTEMBER 15
Johnstown at Wilkes-Barre/Scranton - 3:30 PM EDT
New Jersey at Maryland - 7:45 PM EDT
Lone Star at Amarillo - 7:05 PM CDT
Kenai River at Janesville - 7:05 PM CDT
Fairbanks at Chippewa - 7:10 PM CDT
Corpus Christi at Shreveport - 7:11 PM CDT
SUN, SEPTEMBER 16
Odessa at Topeka - 4:05 PM CDT