September 12, 2018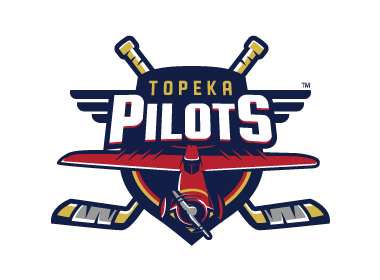 The 24 in 24 series features a look at all 24 teams in the NAHL for the 2018-19 season, with a new team being highlighted daily, leading all the way up until the start of the regular season. 24 in 24 looks into each NAHL team and will include video interviews with 24 coaches in the NAHL, as they provide fans with their expectations and outlook for the season, including taking a look at their strengths as a team and thoughts on the league. It will also take a look back on last season and how each team fared and what they accomplished.
Topeka Pilots
Head Coach: Simon Watson (1st Year)
2017-18 record: 17-39-4, 38 pts. (6th in the South Division) *as Topeka RoadRunners
2017-18 leading scorer: Nick Granowicz (30 pts.)
2018 Playoffs: Did not qualify
2018-19 Division: South
First regular season game: Thursday, September 13th vs. Odessa Jackalopes
Home opener: Thursday, September 13th vs. Odessa Jackalopes
The 2017-18 season for the then Topeka RoadRunners was another tough road. For the second straight season the team missed the playoffs and finished in last place in the South Division. Topeka's 17 wins was a franchise low as the team struggled to find consistency all season long.
After the season was over, change was in the air for the organization as on April 18, 2018, longtime owner Don Stone, who had owned the RoadRunners since 2009, sold the team to Lamar Hunt, Jr and Loretto Sports Ventures. Hunt's Loretto Sports Ventures also owns the Kansas City Mavericks, a professional team who plays in the ECHL. "This was much more than just our company buying a hockey team. This is an important step in our ongoing mission to promote and grow the sport of hockey in our region. The model we are building in Kansas City to expand hockey at all levels is what we want to do with the team in Topeka," said Hunt.
The next step for the team was creating a new identity and brand, along with finding a new head coach, which they found in Simon Watson. Watson had previously played professional hockey in the CHL for the Lubbock Cotton Kings, Rocky Mountain Rage, and the Missouri Mavericks. He played junior hockey in his hometown, Waterloo, Ontario, and later played NCAA Division I hockey at St. Lawrence University where he received his Bachelor of Science in Psychology and a Masters of Educational Leadership.
Then in early June, the team would announce its new identity as the Topeka Pilots. "We felt like we needed a fresh start, a fresh brand, a fresh identity to freshen up the whole scene of hockey here," Hunt said. "Hats off to the past and all that was done here. There's a long history of hockey here and we need to keep that going."
As for Watson, he said he was excited about his first venture into coaching at the junior level and the opportunity with the Pilots, along with the new identity the team in bringing to the community. "We have had a very positive vibe and response from the community about the change to the Topeka Pilots name and logo. Since that point, we have made it a point to be very interactive with our fans and bring a whole new level of community involvement," said Watson. "Community involvement is vital to a player's growth while they are playing for us. We have a very high standard here in Topeka and it is important for everyone to be involved."
"As someone who took the junior to NCAA path as a player, the idea of coaching in the NAHL and working with such talented players is exciting. We are very fortunate to be a part of the great exposure events the league puts on and we are excited to take part in that. I think the talent pool in this league is at an all-time high and will continue to get better," said Watson. "Our players get to witness the consistent and recent progression of past players as they move onto the NCAA and some even to the NHL, so it is a constant reminder that the process works and the NAHL is a great pathway for advancement."
As for the 2018-19 Pilots roster and line-up, Watson said that he hopes the experience from some veteran players off of last year's team leads to more success this season. "We had some holes to fill starting with our defense, but we have a great group of guys that were here last year. I think they are excited about the new opportunity and fresh start, but also humbled from last year's experience with the team," said Watson. "I think we are just looking for improvement and leadership at every position. Hopefully that leads to a playoff berth this season and having the opportunity to compete for a Robertson Cup."
Defenseman Brendan Rons (11 pts.) is one of 11 veteran players returning from last year's team and will serve as team captain during the 2018-19 season. Other key pieces from the 2017-18 team include goaltenders Sam Metcalf and Emil Gransoe, along with forwards Dallas Tulik (23 pts.), Austin McCarthy (15 pts.), and Mason Vukonich (12 pts.), and defensemen Max Finner (18 pts.) and Keenan Johnson (6 pts.). Forwards Kaiden Scott, Kyler Yeo, and defenseman Nick Woodward also come with NAHL experience.
Next up in the 24 in 24 series: Wilkes-Barre/Scranton Knights