24 in 24: Shreveport Mudbugs
September 10, 2018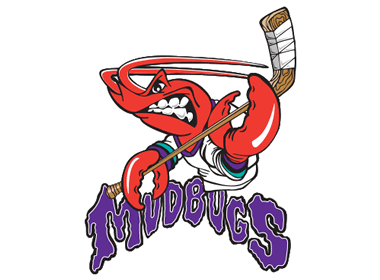 The 24 in 24 series features a look at all 24 teams in the NAHL for the 2018-19 season, with a new team being highlighted daily, leading all the way up until the start of the regular season. 24 in 24 looks into each NAHL team and will include video interviews with 24 coaches in the NAHL, as they provide fans with their expectations and outlook for the season, including taking a look at their strengths as a team and thoughts on the league. It will also take a look back on last season and how each team fared and what they accomplished.
Shreveport Mudbugs
Head Coach: Jason Campbell (1st Year)
2017-18 record: 41-12-7, 89 pts. (1st in the South Division)
2017-18 leading scorer: Jordan Fader (45 points)
2018 playoffs: Won the South Division, Won the Robertson Cup National Championship
2018-19 Division: South
First regular season game: Thursday, September 13th vs. Corpus Christi IceRays
Home opener: Thursday, September 13th vs. Corpus Christi IceRays
In just their second season in the NAHL, the Shreveport Mudbugs became just the 16th team in NAHL history to capture the Robertson Cup National Championship, as they survived five-week war of attrition that lasted 13 playoff games in order to win the NAHL's ultimate prize. The Mudbugs used an experience veteran presence and a stingy defense to capture the ultimate prize with a come-from-behind 2-1 win over the Minot Minotauros back on May 13th. It was the second straight Robertson Cup for a team from the South Division.
The success was also a result of an incredible season of player advancement as the Mudbugs had 15 NCAA commitments, including 10 NCAA Division I commitments. Another product of the success was the advancement and promotion of head coach Karlis Zirnis, who announced later in the summer that he had accepted an assistant coaching position with the NCAA Division I University of Alaska-Fairbanks.
Shortly thereafter, the Mudbugs turned to assistant coach Jason Campbell as their new head coach for the 2018-19 season. "I love the game of hockey, junior hockey especially. I hung my hat -- got married and raised a family – in Shreveport. I love this community. I'm super proud to be part of a great organization that provides this opportunity for this community and the players who play here," said Campbell, who had an assistant coach under Zirnis for the past two seasons. "The NAHL is a great league and proves it is a great opportunity for our players. The events provide such a unique opportunity for exposure and it is a great avenue for our players to showcase their talents. We make it a focus to ensure all of our players are continually getting better and developing. I think with that development comes team success."
While the result of winning a Robertson Cup is something that every team strives for, the consequence of that moving forward into the 2018-19 season will be almost an entirely new roster for Campbell and crew. "Obviously, last year met our expectations. I was new to the process and it was an awesome experience to be that involved and then see it pay off for the players. Their expressions at the end of the season when they were raising the cup made it completely worth it. Then on top of that, to see all the players who advanced to the next level really gives us a sense of accomplishment," said Campbell.
"After you win a championship, it's kind of hard to change a whole lot system-wise. We as a coaching staff are comfortable implementing the systems," continued Campbell. "With so many new bodies, we have to lock down our systems as best we can. At this point, you kind of let the offense take care of itself. You want to make sure you take care of your D zone and have good goaltending – make sure you do enough to bring the guys together; build that culture."
The Mudbugs will have just six players returning that played a part in last year's Championship. Leading that list will be forwards Gueorgui Feduolov (26 pts.), Jay Feiwell (17 pts.), Warren Natyshak (7 pts.), and Jack Jaunich (5 pts.), along with defensemen Jacob Skolnik (6 pts.) and Andrew Erwin (5 games). "We lost a lot of guys from a Championship team and lost a big part of our leadership. However, I think they guys we have coming back will be eager to embrace some of those new leadership challenges. Every little bit of experience counts. Turnover is not a bad thing and there will be plenty of opportunity for new players to step up and continue the standards that have been set. We are evaluating everything. I think for having as many new faces as we do, I am happy with the progress thus far and they are getting our systems," said Campbell.
Another big hole to fill will be in goal as the Mudbugs look for two new goaltenders as both Jaxon Castor and Gustavs Grigals are onto the next chapters. "Our goal right now is to put a quality team on the ice and have a strong to the season. I think we want to be tough defensively and build off that. We have made Shreveport a hockey city because of the fact we have such great community and fan support," said Campbell. "We know it is going to be a tough test with a lot of new faces, but want to embrace that challenge."
Next up in the 24 in 24 series: Springfield Jr. Blues