24 in 24: Odessa Jackalopes
September 7, 2018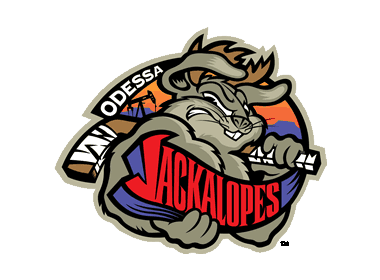 The 24 in 24 series features a look at all 24 teams in the NAHL for the 2018-19 season, with a new team being highlighted daily, leading all the way up until the start of the regular season. 24 in 24 looks into each NAHL team and will include video interviews with 24 coaches in the NAHL, as they provide fans with their expectations and outlook for the season, including taking a look at their strengths as a team and thoughts on the league. It will also take a look back on last season and how each team fared and what they accomplished.
Odessa Jackalopes
Head Coach: Greg Gatto (6th Year)
2017-18 record: 33-22-5, 71 pts. (3rd in the South Division)
2017-18 leading scorer: Ricky Carballo (56 pts.)
2018 Playoffs: Lost to the Lone Star Brahmas in the South Division Semi-Finals, 3 games to 0
2018-19 Division: South
First regular season game: Thursday, September 13th @ Topeka Pilots
Home opener: Friday, October 26th vs. Shreveport Mudbugs
The 2017-18 season was one for the record books for the NAHL's Odessa Jackalopes. The club set a NAHL team record with 33 wins and 71 points during the regular season and finished 3rd in the South Division. However, one of the big hurdles for the Jackalopes would come in the Robertson Cup Playoffs as they were matched up against the Lone Star Brahmas, a team they had just one win against in eight tries during the regular season. Despite all three games of the series being close, the Jackalopes could not find the offense they needed and were swept in three games in the series, scoring just three goals.
"There were a lot of positives last season, but we can't we content with just making the playoffs. Last year was a big step in the right direction, but now we have to follow that up and not take a step backwards," said Jackalopes head coach Greg Gatto, who is heading into his sixth season at the helm for the club. "We needed to find some more scoring and we needed some size. We did not match-up very well with the Brahmas in the regular season or the playoffs and they took it to us."
The Jackalopes also had a great year with NCAA commitments as 11 players from the 2017-18 roster ended up with an opportunity at the next level, including four NCAA Division I commitments. "The reality is that every year we are constructing something new and planning for the 2018-19 was no different. The league has gotten to a point now because of all the commitments and advancement that there is a lot of turnover from year to year," said Gatto. "The amount of exposure these players get is invaluable and it is one of the main ways the NAHL sets itself apart from everyone else."
Because of all the NCAA commitments and advancement for the Jackalopes, the 2018-19 roster will be almost entirely new as just six players from last year's team are on the current roster and protected list.
"We like to look all over for talent. I think that is one of the beneficial things about the Draft and our camps is that there are a wide variety of players to consider and there are talented players everywhere," said Gatto. "This year will have a new look, but we tried to go out and find players with junior experience because we don't want leadership to be an issue. I think beyond some scoring and size we also needed some speed"
As for the six returning players, the Jackalopes will build from the net out thanks to returning netminder Alex Camarre. The 19-year-old had a very good season last year for Odessa, putting up a 18-8-2 record in 32 appearances and ranked 6th overall in save percentage with a .926 mark. "I think you sleep a lot better when you have a returning goaltender who has experienced the caliber of competition and NAHL shots, so having Alex return for us in goal should be big. He's not big, but he is a competitor and I expect and very good season out of him," said Gatto.
Along the front lines, the Jackalopes return four forwards led by Zach Heintz, who had 42 points in 58 games played last season. Also returning is Army commit Eric Huss, who had 22 points in 53 games played last season. Jared Christy is another key returning after posting an impressive 13 points in just 19 games and Matt Hutton rounds out the forwards from last year. Defensively, the Jackalopes return Connor Fedorek, who had 13 points in 45 games played last year after starting the year with Kenai River.
"We want to continue to push our players and help them to continue this great development path they are on. I think know that the league has gotten to such a high level and expectation of commitments, we want to keep that up and help guys keep realizing their dreams. We want to a championship team, plain and simple. In the past two years Shreveport has won and Lone Star has won it, so why can't we win it? We have made the playoffs and gotten better, but we want to be in position to be the higher-seeded team and win a Robertson Cup. I want us to take a major step forward this year," said Gatto.
Next up in the 24 in 24 series: Shreveport Mudbugs