24 in 24: Lone Star Brahmas
August 29, 2018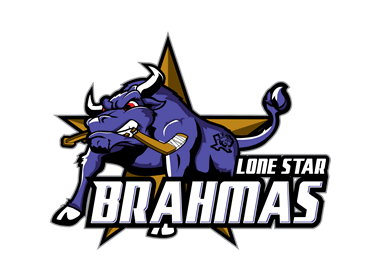 The 24 in 24 series features a look at all 24 teams in the NAHL for the 2018-19 season, with a new team being highlighted daily, leading all the way up until the start of the regular season. 24 in 24 looks into each NAHL team and will include video interviews with 24 coaches in the NAHL, as they provide fans with their expectations and outlook for the season, including taking a look at their strengths as a team and thoughts on the league. It will also take a look back on last season and how each team fared and what they accomplished.
Lone Star Brahmas
Head Coach: Dan Wildfong (6th Year)
2017-18 record: 38-12-10, 86 pts. (2nd in the South Division)
2017-18 leading scorer: Jon Russell (48 pts.)
2018 Playoffs: Lost to the Shreveport Mudbugs in the South Division Finals, 3 games to 2
2018-19 Division: South
First regular season game: Saturday, September 15th @ Amarillo Bulls
Home opener: Friday, September 28th vs. Odessa Jackalopes
Heading into last season the Lone Star Brahmas were looking to join the rarified air of NAHL teams that have won back-to-back Robertson Cup titles. While the 2017-18 squad featured many different components that the championship team of 2016-17, the Brahmas were still among the NAHL's elite last season, finishing with 38 wins and 86 points in the always difficult South Division. An opening round sweep led to a showdown with the Shreveport Mudbugs in the South Finals. The series, which went the maximum five games, was a close as advertising and featured four games being decided by a goal, including the decisive Game 5 as the Mudbugs would end the Brahmas quest and end up going onto win the Robertson Cup.
"I thought we had a really good season last year. It was a different feeling for sure being the defending champions, particularly at the beginning of the year. I think you get everyone's best shot right off the bat and it makes it that much tougher. I think you forget how hard it is to win a National Championship and what we went through to do it, but we gave ourselves a chance," said Brahmas head coach Dan Wildfong.
The Brahmas were once again at the forefront of the NCAA commitment factory that the NAHL has become with a whopping 16 players finishing the season with an NCAA commitment of some kind. It is something that Wildfong and the Brahmas are proud of and have made a priority. "We had another great season of NCAA commitments and it continues to be our main focus. I think all the NAHL coaches do an exceptional job of promoting their players and I think it is one of the main reasons behind the upward trend of NCAA commitments," said Wildfong.
Another watershed moment for the Brahmas came on June 23rd when NAHL Goaltender and Rookie of the Year, Mitchell Gibson, was selected the Stanley Cup Champion Washington Capitals in the 2018 NHL Draft, which ironically was held just miles down the road in Dallas a short distance away from the Brahmas home at the NYTEX Sports Centre. It capped off a great season for Gibson with the Brahmas, which saw the Harvard commit lead the NAHL in goals against average, save percentage, and tie a season-single shutout record with 11.
"Mitchell had a great season and it was great for our team and league to see him selected in the NHL Draft. People don't see it, but he is a guy that is continually working his tail off to get better. He does the little things that it takes to become an elite player, whether it's staying on the ice to take extra shots, or watching film, so this was something that was earned and he worked very hard for," said Wildfong.
The 2018-19 season will be almost a complete rebuild for Wildfong and the Brahmas, as they return just four players from last year's team. "We lost almost everyone from last year's team. I think we have a little more skill coming in and that hopefully will make us a little more of an offensive team. Last year, we had to win games with goaltending and defenseman because that's where our strengths were. We had a tough time finishing plays and scoring. We are hoping the talent we brought in for this season allows us to play a little more of a wide-open game, utilizing speed and high-end skill."
The Brahmas do return three defensemen from last year's team, who include Jakub Sirota (24 pts.), Kimball Johnson (13 pts.), and Josh Martin (11 GP). Forward Frankie Trazzera (10 pts.) is the lone forward returning from last season and goaltender Harrison Feeney, who was Gibson's primary back-up last season, returns for his final season of junior hockey hoping to win the starting role.
"There is going to be a big learning process this year, but we are relying on those few returners to show some leadership in the lockerroom and show the new guys what we are all about and help develop and culture," said Wildfong. "I am hopeful with the talent we brought in we can be a little more high-tempo team that can also play with some grit."
Next up in the 24 in 24 series: Maryland Black Bears