24 in 24: Johnstown Tomahawks
August 27, 2018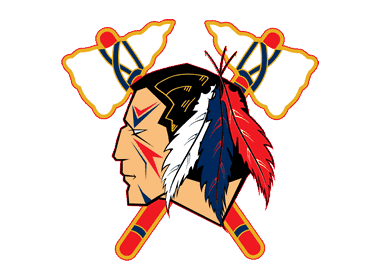 The 24 in 24 series features a look at all 24 teams in the NAHL for the 2018-19 season, with a new team being highlighted daily, leading all the way up until the start of the regular season. 24 in 24 looks into each NAHL team and will include video interviews with 24 coaches in the NAHL, as they provide fans with their expectations and outlook for the season, including taking a look at their strengths as a team and thoughts on the league. It will also take a look back on last season and how each team fared and what they accomplished.
Johnstown Tomahawks
Head Coach: Mike Letizia (5th Year)
2017-18 record: 23-33-4, 50 pts. (5th in the East Division)
2017-18 leading scorer: Samuel Solnesky (46 pts.)
2018 Playoffs: Did not qualify
2018-19 Division: East
First regular season game: Friday, September 14th @ Wilkes-Barre/Scranton Knights
Home opener: Friday, October 5th vs. Jamestown Rebels
Last season did not go the way that the Johnstown Tomahawks wanted it to on the ice. The team got off to a rough start, dropping 12 of their first 14 games, and was never able to recover as they missed out on the playoffs for the first time since the 2014-15 season. The Tomahawks posted just 23 wins, which was the fewest in their history in the NAHL. The Achilles heel for the Tomahawks last season was the lack of offensive production. The team was next to last in the NAHL in goals scored per game at just 2.37 per contest.
"We were disappointed with last year. Everyone's goal is to win a Robertson Cup, but the first part of that is making the playoffs, which is something we didn't do. We struggled at the beginning of the season and put ourselves in a big hole. We played good hockey later in the season, but we were not consistent enough," said Tomahawks head coach Mike Letizia, who will be entering his fifth season behind the bench. "I think trying to get back to the right side of the standings starts with our returning players and me. Last season left a bad taste in our mouth and we are coming back a more motivated group this year."
It wasn't all bad for the Tomahawks, who have one of the most loyal fan bases in the NAHL. For the sixth straight season the team averaged over 2,100 fans per game and were again among the NAHL leaders in attendance. The team also had eight players commit to NCAA schools, including seven NCAA Division I commitments. While winning on the ice is important for the team, helping players grow, develop, and move onto higher levels is also a main priority, which mirrors that of every NAHL team.
"Having been in the NAHL a while now, it is really no surprise that the NCAA commitments keep getting better each season. We pride ourselves on helping players get to the point where they are earning a commitment. We are trying to create an environment for players to grow in and enjoy. We are trying to develop them as players and as people. A big part of that is their interaction with their community and we have a great group and situation here in Johnstown. I think guys leave here really having enjoyed their experience," said Letizia.
One of the struggles of any team is adapting to new players and the Tomahawks had a lot of them last season, as they started out as one of the youngest teams in the league. That will hopefully pay benefits during the upcoming 2018-19 season as Letizia expects to return a much more veteran-laden roster. "I think heading into this year, we needed improvement at every position, but the guys that are coming back have experience and proven production and that will help us be a better team," said Letizia.
Some of the bigger names coming back for the 2018-19 season including the leading scorer from a season ago, Samuel Solensky, along with goaltender Kade Phipps. Solensky will be entering his final junior season and is a proven point producer, as he has put up 69 points in 79 career games in the NAHL with the Tomahawks. Also returning is goaltender Kade Phipps, who was an early season acquisition from Aberdeen last season. Phipps had a very respectable 10-6-0 record in a Tomahawks uniform last season and also posted a .920 save percentage.
Also returning to the line-up from last year's team includes forward Carson Briere (23 pts.), Mitchell Hale (20 pts.), Christian Gorscak (13 pts.), along with defensemen Chris Trouba (10 pts.), Carter Dwyer (7 pts.)
"We like to lean on guys who have been there before and your hope as a coach is that that everyone coming back shows some leadership. I think we also have a handful of guys coming in with some impressive junior experience in other leagues that will help us. I know the competition in camp thus far has been good and we are going to face some tough roster decisions," said Letizia. Our first goal is to make the playoffs, but have to be sure we aren't satisfied with that. We want to bring a Championship to Johnstown. We also want to advance players careers and keep those commitment numbers up."
Next up in the 24 in 24 series: Kenai River Brown Bears