24 in 24: Janesville Jets
August 24, 2018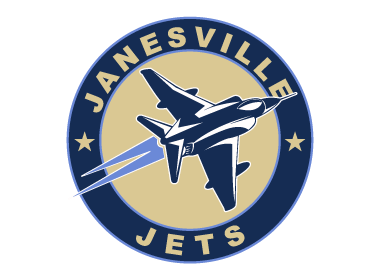 The 24 in 24 series features a look at all 24 teams in the NAHL for the 2018-19 season, with a new team being highlighted daily, leading all the way up until the start of the regular season. 24 in 24 looks into each NAHL team and will include video interviews with 24 coaches in the NAHL, as they provide fans with their expectations and outlook for the season, including taking a look at their strengths as a team and thoughts on the league. It will also take a look back on last season and how each team fared and what they accomplished.
Janesville Jets
Head Coach: Gary Shuchuk (2nd Year)
2017-18 record: 38-13-9, 85 pts. (2nd in the Midwest Division)
2017-18 leading scorer: Jakov Novak (73 pts.)
2018 Playoffs: Lost to the Fairbanks Ice Dogs in the Midwest Division Finals, 3 games to 2
2018-19 Division: Midwest
First regular season game: Friday, September 14th vs. Kenai River Brown Bears
Home opener: Friday, September 14th vs. Kenai River Brown Bears
The Janesville Jets have been the model of consistency and excellence both on and off the ice and the 2017-18 was no exception. The team didn't miss a beat under new head coach Gary Shuchuk, who arrived from the University of Wisconsin just over a year ago. On the ice, the Jets actually had the fifth best record in the league despite not winning their division. They also continued their amazing track record of advancement with 13 NCAA commitments, which included an impressive 12 NCAA Division I commitments.
After 38 wins during the regular season, the Jets found themselves in an incredible position after sweeping their opening round playoff series against Springfield and then taking the two of the first three games up in Fairbanks against the Ice Dogs. One win in either Games 4 or 5 in Janesville would have sent the team to the Robertson Cup for the second straight season. However, it was not meant to be as the Jets fell in two close games to Fairbanks to end their season.
"We ran into a hot goalie in Games 4 and 5 and it didn't go our way, but overall we were very happy with the season. We had a young team that bought into our system and what we were trying to teach and then to see success come from that would make any coach happy," said Jets head coach Gary Shuchuk. "I really enjoyed my first season in Janesville. We had such a great group of players and really accomplished a lot with a young team. I think everyone felt like Fairbanks was the best team in the league all season and so to have the opportunity to try and beat them on our ice to go to the Robertson Cup was all we could have asked for."
The Jets also experienced another milestone as leading scorer and forward Jakov Novak, who was named the NAHL's Most Valuable Player and Forward of the Year, was selected by the Ottawa Senators in the 2018 NHL Draft. Novak, who will play NCAA Division I hockey for Bentley University this fall, led all NAHL players in scoring during the season with 73 points in 56 games played, which also included an NAHL-best 32 goals.
However, with the loss of players like Novak in addition to several other key contributors on offense, the goal for the Jets this off-season was to build from the goal out, utilizing the strength they had returning in goal and on defense for the 2018-19 season. The team lost a significant amount of scoring from last season, which included their top five scorers. The result is going to be a scoring by committee approach in 2018-19.
"I don't think you can replace guys like Jakov Novak or Kip Hoffman, but you have to remember that even those players had to start somewhere and they also went through the first season learning process and growing pains. I think we are going to have to be a little deeper this season with our scoring and rely on more players to contribute and put the puck in the back of the net. I think we have brought in a lot of talented young guys who are looking for a shot," said Shuchuk.
With that in mind, the Jets are banking on two NCAA Division I-committed goaltenders to lead the way in 2018-19 with veteran Garrett Nieto and NAHL newcomer Cole Brady. "We like to build from the net out, so we feel real confident about both Garrett and Cole in goal for us. Both are committed to NCAA Division I programs and want to play in the NAHL to get better and help our team win. That type of attitude means a lot in the lockerroom and shows great leadership," said Shuchuk. In addition, the Jets will return a significant number of defensemen in addition to forwards like Matt Hanewall and Logan Ommen.
"The goal for any team is to win the Robertson Cup, so we will come into this season with that mindset. However, just as important is seeing kids reach their potential and realize their dreams of becoming an NCAA Division I player. That is one of the main reasons I enjoy coaching in the NAHL because you are getting guys who are eager to learn and it is fun to see the progression of development during their junior careers. All of the coaches in the NAHL have a passion for this and we care about the players and the programs," said Shuchuk.
Next up in the 24 in 24 series: Johnstown Tomahawks