24 in 24: Fairbanks Ice Dogs
August 22, 2018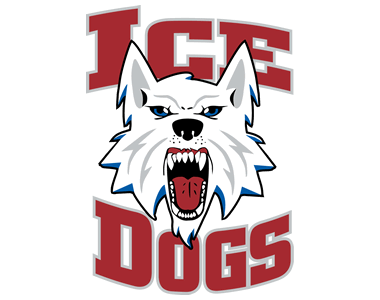 The 24 in 24 series features a look at all 24 teams in the NAHL for the 2018-19 season, with a new team being highlighted daily, leading all the way up until the start of the regular season. 24 in 24 looks into each NAHL team and will include video interviews with 24 coaches in the NAHL, as they provide fans with their expectations and outlook for the season, including taking a look at their strengths as a team and thoughts on the league. It will also take a look back on last season and how each team fared and what they accomplished.
Fairbanks Ice Dogs
Head Coach: Trevor Stewart (8th Year)
2017-18 record: 45-8-7, 97 pts. (1st in the Midwest Division)
2017-18 leading scorer: Hunter Wendt (61 pts.)
2018 Playoffs: Won the Midwest, lost to the Minot Minotauros in the Robertson Cup Semi-Finals, 2 games to 1
2018-19 Division: Midwest
First regular season game: Friday, September 14th @ Chippewa Steel
Home opener: Friday, October 5th vs. Janesville Jets
While the Fairbanks Ice Dogs did not win a Robertson Cup last season, the 2017-18 campaign will go down as one of the best in team history for a variety of reasons. The Ice Dogs had a remarkable 14 players make NCAA commitments in 2017-18, which included 13 players making an NCAA Division I commitment.
"It is disappointing because we didn't win it all, but we accomplished a lot. Now that we have had some time to absorb it and reflect, we did some pretty special things last year," said Ice Dogs head coach Trevor Stewart. "We are here to help develop, promote, and advance our players onto the NCAA, so this past season was pretty gratifying to see that many players commit and take the next step in their careers."
The Ice Dogs were dominant during the regular season, which saw the team not only lead the NAHL with 45 wins and 97 points, but it also saw the Ice Dogs set a modern day NAHL records with a 24-game winning streak and a 33-game point streak. On top of all that, the Big Dipper Ice Arena continued to be the hottest ticket in town, as the Ice Dogs sold out every one of their 28 home games. It all led to the Ice Dogs garnering NAHL Organization of the Year honors, along with Stewart earning NAHL Coach of the Year honors and Rob Proffitt getting recognized as the NAHL General Manager of the Year.
The Ice Dogs had their backs against the wall in the Midwest Division Finals, as they dropped two games at home and had to win both Games 4 and 5 in Janesville. After pulling out a 1-0 win in Game 5 and advance to the Robertson Cup, Fairbanks appeared headed for the final after a convincing 5-2 win in Game 1 of the Semi-Finals against Minot. However, the resilient Minotauros came back with a 2-0 win in Game 2 and then ended the Ice Dogs season with a 5-4 overtime win in the decisive Game 3.
"It was frustrating to have it end the way it did because you always want to cap off a remarkable regular season with a championship. The players really put a lot of effort into last season, so it was tough to get that close and come up an overtime goal short. Sometimes it just doesn't go your way and you have to credit Minot for what they did to win," said Stewart.
While 14 NCAA commitments would force most teams to rebuild, Fairbanks may be just as strong as last year heading into the 2018-19 season with 10 players from last year's team set to return. Headlining the returners are forwards Jax Murray (40 pts.) and Jack Johnston (32 pts.), who both put up significant points last season. Murray, who just committed to play NCAA Division I hockey at Arizona State, led the Ice Dogs with 10 points during the Robertson Cup Playoffs last season. Other forwards returning who Stewart expects contributions from include Grant Ledford, Tyler Dweese, and Ty Proffitt.
On defense, the Ice Dogs are also solid with the return of Army commit Noah Wilson (17 pts.), John Stampohar (24 pts.), and Luke Mobley. In goal, the Ice Dogs will have some new faces as both goalies from last year's team are gone. The team has three netminders on the roster currently, which includes Nathan Reid, who was Fairbanks' 1st round draft pick in the 2018 NAHL Draft. "There is going to be a lot of competition at the goaltending position and that's what we want," said Stewart.
Stewart knows that the 2018-19 season comes with a whole new set of challenges. "We are expecting our returning players to learn from last year's experiences, both good and bad. We are counting on them to be better and provide the necessary leadership we are going to need to be successful," said Stewart. "I think all the coaches in the NAHL are working really hard to do the same thing we are doing, which is why we can't be satisfied. We are all in it for the right reasons and in in for our players. I know I need to go to the rink everyday and put in the time, because there are 23 other coaches in the league doing the same thing. We all share that same mentality, which makes the competition even stronger," said Stewart.
Next up in the 24 in 24 series: Jamestown Rebels