24 in 24: Brookings Blizzard
August 17, 2018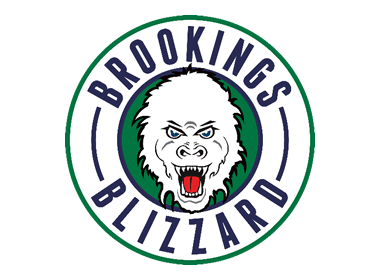 The 24 in 24 series features a look at all 24 teams in the NAHL for the 2018-19 season, with a new team being highlighted daily, leading all the way up until the start of the regular season. 24 in 24 looks into each NAHL team and will include video interviews with 24 coaches in the NAHL, as they provide fans with their expectations and outlook for the season, including taking a look at their strengths as a team and thoughts on the league. It will also take a look back on last season and how each team fared and what they accomplished.
Brookings Blizzard
Head Coach: Moe Mantha (2nd year)
2017-18 record: 23-30-7, 53 pts. (6th in the Central Division)
2017-18 leading scorer: Josh Boyer (58 pts.)
2018 Playoffs: Did not qualify
2018-19 Division: Central
First regular season game: Wednesday, September 19th vs. Amarillo Bulls
Home opener: Friday, September 28th vs. Minot Minotauros
After three straight years of Robertson Cup Playoff appearances, the Brookings Blizzard hit a bit of a roadblock last season when a rough second half led to a 6th place finish in the always tough Central Division in 2017-18. A stretch of 10 losses in 11 games in December and January dropped the Blizzard in the standings.
The Blizzard had some early success in the season, but some mid-season call-ups forced different players with less experience into some more enhanced roles with the team. "We were in 1st place around the halfway point of the season, but the NAHL is the League of Opportunity, and we had some players get called up, so that had an impact on us for the remainder of the season. However, it is important that we learn from it as an organization. It provided a chance for different players to try and step up in an enhanced role and in order for us to be successful, they have to embrace that and thrive," said Mantha.
While the Blizzard had plenty of firepower, it was the team defense and grit that Moe Mantha wanted to address this off-season. The Blizzard were 20th in the NAHL at goals allowed last season at 3.52 per game. Entering the 2018-19 season, Mantha said the focus was character and grit. "I think this year's team will have some more size to it and be more of a team that were similar to those I had with those good Michigan Warriors clubs in the NAHL. We want to be first to the puck and win the one-on-one battles. We have to be a tough team to play against and be tough to score on. We had some skill and offense last year, but I don't think we had enough grit in our game and we have to be tougher defensively," said Mantha.
Despite the last place finish, there were a lot of bright spots for the Blizzard last season. Forward Josh Boyer, who led the team in scoring with 58 points, was one of nine players who ended the season with an NCAA commitment, which included six NCAA Division I commitments like Boyer, who committed to Nebraska-Omaha. During the NHL Draft in June, the Blizzard even got more good news as three former players were selected. Forwards Paul Cotter and Brandon Kruse, who both played on the 2016-17 team, were drafted by the Vegas Golden Knights, and forward Mikael Hakkarainen (2015-16) was drafted by the Chicago Blackhawks.
Another big change for Mantha and Blizzard is that helping on the bench and with recruiting this season will be his new assistant coach and son, Devin Mantha. Devin just retired from a five-year career in professional hockey in the ECHL and SPHL. Prior to that, he attended the University of Wisconsin-Eau Claire where he guided his team to a NCAA Division III National Championship in 2013. His time at Eau Claire came after two season playing for the Miami University in Ohio "Devin isn't too far removed from the junior game. He has played both NCAA DI and DIII college hockey and been successful, so I think he is going to be asset because he lean on his experience on what it takes to get our players to the next level," said Mantha.
"I'm honored to have the opportunity to join the Blizzard. I'm looking forward to the challenges that come with coaching a team. I'm excited to help any way I can to develop these young men and move them on to higher levels of hockey and onwards to their own personal goals," said Devin Mantha.
Mantha said that he has high hopes for some new faces on the roster this season, who include 1st round draft pick forward Dylan Schuett and a local product and NAPHL in forward Carter Krogman. Krogram is a native of Brookings and played three seasons in the NAPHL. Another player Mantha is excited about is forward Sam Antenucci from the Little Caesars 16U team. In goal, the three in camp who will battle for the starting job include rookies McLean Dorr and Jack Caruso, along with Alex Mosquera, who brings some junior experience.
"This was the first season that I had the entire season to build and prepare for the upcoming season, so I am exited about who we have coming in. We have kids with the right kind of character and attitude. The goal is to get back to some winning hockey and keeping moving guys onto the NCAA," said Mantha.
Next up in the 24 in 24 series: Chippewa Steel