Eight players with NAHL ties invited to USA Hockey Goaltending Camp
August 10, 2018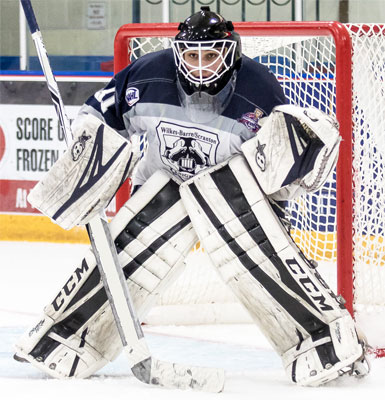 The North American Hockey League (NAHL) is pleased to announce that eight (8) current or former goaltenders have been invited to take part in USA Hockey's 11th annual Warren Strelow National Team Goaltending Camp, which features many of the top United States goaltenders eligible for international play.
The camp opens next week on Tuesday, August 14th in Plymouth, Michigan, at USA Hockey Arena. The camp is named after the late Warren Strelow, a former NHL goalie coach who served in that same capacity for the 1980 U.S. Olympic Men's Ice Hockey Team.
The elite four-day camp will cover both physical and mental aspects of goaltending, helping each of the 27 invitees master the fundamentals of the position while developing a personal identity that translates to in-game success.
For the first time in camp history, USA Hockey invited current professionals, including three NAHL alumni, to participate in the camp, allowing them to prepare for their upcoming season while also creating an organic mentorship for the next generation of future NHL American goalies. The list of current professionals participating includes NAHL alumni Jimmy Howard (Detroit Red Wings), Phoenix Copley (Washington Capitals), and Collin Delia (Rockford Ice Hogs).
Others current or former NAHL goaltenders that were invited to the camp are:
Josh Graziano (Coulee Region Chill, 2017-18)
Jake Kucharski (Austin Bruins, 2016-17)
Isaiah Saville (Minnesota Magicians, 2017-18)
Christian Stoever (Wilkes-Barre/Scranton Knights, 2017-18)
Ryan Ullan (Bismarck Bobcats, 2017-18)
In addition, current Johnstown Tomahawks equipment manager Dave Dunkleberger, was named the officials Equipment Manager for the camp.
NOTES: Seven goalies are from the 1999, 2000, and 2002 birth class while six goaltenders on the camp roster are from the 2001 birth class. Fourteen states are represented on the roster. Michigan leads the way with five goaltenders, while Illinois, Massachusetts and New Jersey boast three apiece. Alaska, Minnesota, and New York each have two, and Florida, Missouri, Ohio, Pennsylvania, Texas, Virginia and Wisconsin each have one.