Fairbanks forward Murray makes NCAA DI commitment
July 16, 2018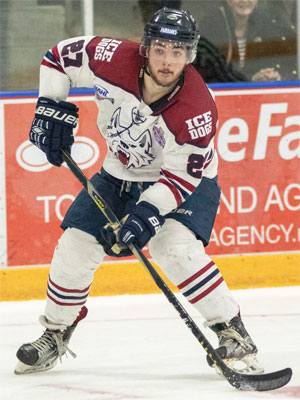 By Brad Joyal, News-Miner
Jax Murray will soon be trading in his parka and boots for some tank tops and sandals.
After spending one season in the North American Hockey League (NAHL) with the Fairbanks Ice Dogs, Murray committed to play NCAA Division I hockey at Arizona State University in Tempe, Arizona.
Murray, a 5-foot-9, 170-pound forward from Elk River, Minnesota, made his decision to join the Sun Devils this weekend. Although he will play for the Ice Dogs during the upcoming season, Murray said he's excited to know his college choice is set ahead of his final year of junior hockey.
"It's a huge relief off my shoulders," he said after becoming the 12th Ice Dog from last year's team to land with a Division I program. "I've been dreaming about this since I was a little kid. It's kind of surreal to be this moment."
Murray, 19, quickly established himself as a key contributor in 2017-18, tallying 40 points (13 goals, 27 assists) in 48 games for Fairbanks. He was also selected to and played in the 2018 NAHL Top Prospects Tournament for the Midwest Division team.
"He came to us probably 12 games into our season and really boosted our lineup," Ice Dogs head coach Trevor Stewart said. "He had a big playoffs for us. He's a player that, moving into next year, we expect big things from as far as leadership and offensive production."
During Fairbanks' postseason run, Murray tied fellow forward Samuel Ruffin with a team-best 10 points in 11 games. He led the team with six goals and also registered four helpers during the playoffs.
It was his postseason performance that really caught the eye of Arizona State's coaching staff, led by head coach Greg Powers, who has been at ASU for nine total seasons.
"I've been talking to them pretty much since the season ended," Murray said. "Things started getting pretty serious in the last two weeks."
Powers guided the program to its first American Collegiate Hockey Association Division I national title in 2014. At the time, the Sun Devils fielded a club team. That changed in 2015-16, when ASU played a hybrid schedule against club teams, NCAA Division I and Division III squads.
Since the 2016-17 season, the program has played Division I schedules. The Sun Devils, who finished 8-21-5 last season, are an independent program, meaning they aren't affiliated with any conference. However, there have been rumblings among hockey circles that ASU may end up joining the Western Collegiate Hockey Association — the conference the University of Alaska Fairbanks Nanooks compete in — in the future.
UAF will open the 2018-19 season with a two-game series at ASU on Oct. 6-7.
Few people view Arizona as a hockey hotbed, though Murray said he's eager to be a part of a program that's on the rise.
"I'm excited they're still in their start-up years," he said. "I'm going to be a part of them building their tradition."
Although Murray hasn't visited the ASU campus in Tempe, Arizona, some of his family has been around the area. The combination of what he has seen online, and what he has heard from others, makes him believe it's the perfect fit.
"My family has been down to Tempe a couple times," Murray said. "It's a pretty great location. I personally have not been there — I plan on doing a visit in a couple months — but from everything I've heard and learned through my own research, it seems to be a great organization."
And how about that warm, desert climate in Arizona? The forward is ready to change his wardrobe during the winter.
"I think it will be pretty cool," he said. "Especially going from Alaska — where it's cold the entire hockey season — to Arizona, where it's going to be warm the entire season. I'll be able to wear shorts to the rink. I think that will be pretty cool."
Murray said he's excited to return to Fairbanks for another year with the Ice Dogs. After being named to the NAHL All-Midwest Division Rookie Team and the NAHL All-Rookie Second Team at the end of his debut campaign, he plans to be one of the leaders during the upcoming season.
"I want to be able to be somewhat of a leader for the guys," Murray said. "I want the rookies to be able to look up to me and know that you have to work hard to get to where you want to go. I want to be a role model, put up some points and have a great year."